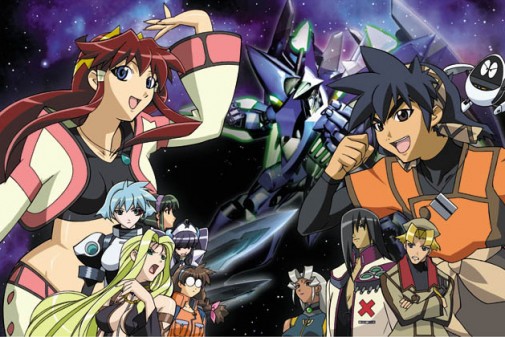 What if in the future, the battle of the sexes literally became a battle? What if men and women were literally from different planets? Well that is what has happened in Vandread by animation company Gonzo. Now Funimation is about to bring the full DVD box set to American soil on May 4th.
In Vandread there are two worlds which are constantly at war with one another. The world of Mejere (women) and Taraak (men) are completely separate and have been so for as long as anyone can remember. The war between them has lasted even longer. However once a new fighting force that has been developed by the men is brought out into open battle for the first time, the ship is hijacked by female pirates. With a mysterious power reacting within the ship, Hibiki and a few other of his fellow men have been teleported across the galaxy aboard a ship full of the enemy they fear so much; women.
I have seen this anime before and highly recommend it. There is an extremely large amount of CG mech battles in space, as well as romantic comedy mixed between the crew mates of the ship as they attempt to adapt to one another. Included inside of this package is the full DVD set of the entire two series put together, including two brand new OVA (Original Video Animation) and will run you about $50.