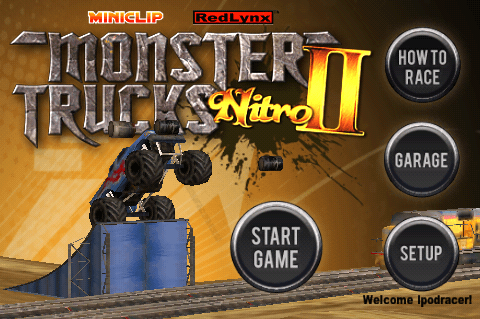 RedLynx the creators of TRIALS HD are back with Monster Truck Nitro II.  If you loved Trials HD then you're going to absolutely enjoy this game.  Check out the video trailer below and the full press release with all the information you need.
READ THE PRESS RELEASE CLICK THE LINK BELOW
Miniclip.com (www.miniclip.com) and RedLynx (www.redlynx.com) today launched the eagerly awaited follow-up to the massively successful Monster Trucks Nitro. Simultaneous launching online at Miniclip.com and on iPhone takes Monster Trucks Nitro II to over 57 million game players across the world.  
Live out your fantasy with Monster Trucks Nitro II as you drive big-engine, 4-wheel drive beasts over enormous obstacle courses. The new game rolls out advanced game physics, breathtaking 3D graphics, more trucks, all new levels, and global high scores.
Key features:
Ride High in the Pickup, 6-Wheel ATV, Rocket and MAC
Fully dynamic, three-dimensional environments
Wreck cars, demolish track structures, run over trees; destroy just about everything that stands in your way!
Twenty thrilling tracks with three different sprint levels for each
Player Achievements, Friends Leagues and Global Scoreboards
Experience bigger sounds and more spectacular crashes on the latest iPhone and iPod Touch devices! 
Monster Trucks Nitro II is the adrenaline-fueled, action-packed sequel to the Miniclip.com's worldwide best-seller, Monster Trucks Nitro. This heart-thumping game sequel is sure to crush the competition. 
"We live for launch days. They bring to a culmination all the hard work by our development teams.  When a game goes live it makes all that effort worthwhile," said Rob Small, CEO, Miniclip.com. 
"We've installed exciting additional features to an already very popular game; fans of Monster Trucks Nitro will love the new challenges we've given them.  Unless you can get on board one of these bad boys for real, Monster Trucks Nitro II is the closest that you're going to get to driving an insane set of wheels over the biggest and most challenging of race tracks." 
Tero Virtala, CEO, RedLynx said "Publishing games across multiple platforms that gamers around the world want to play is our passion; it's what we do.  Monster Trucks Nitro II is just such a game and we're thrilled to be working with Miniclip.com on this exciting launch." 
"In addition to our own talented people and development skills, good partners are a crucial part of the success of our games. Miniclip is an excellent example in this type of leading partner: a truly giant player that well understands and reaches casual gamers."