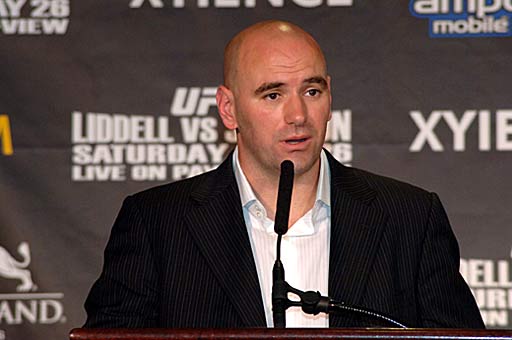 UFC President Dana White has previously stated that any MMA fighter who signed up to be included in EA Sports: MMA out later this year, would no longer be welcome in the UFC, both in video game and in real life. Now he has retracted his statement about the fighters and is willing to work with those who have chosen to take part in the EA game.
The bad blood between the two companies started back when Dana White approached EA about developing a UFC video game for him. EA on the other hand stated that UFC and mixed-martial arts was not a real sport and had no following worth the making of a video game. However after the release of UFC Undisupted 2009 EA began to move forward with their own aspect of the game, after seeing the success of the UFC game. Feeling betrayed Dana White truly hates EA and had stated that any fighter seen in the EA version of the game, would not be allowed to return to the UFC.
He has also been quoted saying:
"If there's anybody out there who is a UFC fan, you're ******* nuts if you buy the EA game."
It's quite curious if this decision comes from Randy Couture's decision to take part in EA's game, and if White prefers to have Couture stay with his company in the real sport rather than ban him over joining a different video game.
Honestly I loved UFC Undisupted 2009 and I follow MMA in real life, so I'm glad to hear that Dana White is no longer going to ban fighters simply because of this rivalry. This would cut a wide path between who should fight and who shouldn't fight and to punish up and coming young fighters who are looking for publicity to help them start their careers would devastate many of the younger fighters in the MMA world.
UFC Undisputed 2010 is going to be released for the PS3 and Xbox 360 on May 25th in America, and May 27th in Australia. While EA Sports: MMA has a tentative release date later this year, for both the PS3 and Xbox 360 as well.