Check out Rake In Grass new action-puzzle game Phantasia for the iPhone / iPod Touch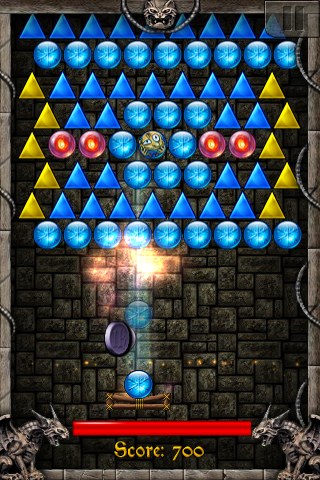 Phantasia is an action-puzzle game for players of all ages. It challenges the user to save fairy dwarves. The dwarves are imprisoned in colored spheres. The spheres are placed in lines and they are moving down. Players must eliminate the colored spheres by firing their spheres at two or more spheres of the same color. If the player hits the spheres of the same color, they are destroyed and dwarves are released.
The game contains two modes – Adventure and Arcade. In Adventure mode you must save dwarves in 30 levels of graduated difficulty. In the Arcade mode you try to collect as much points as you can in one Arcade level.
The main features:
– Enjoy two game modes – Arcade and Adventure
– Play 30 levels in the adventure mode
– Use different bonuses to save the dwarves
– Collect coins to raise your score
– Colorful hand drawn graphics with monstrous effects
– Original music
Gameplay video:
httpv://www.youtube.com/watch?v=zu5MvQwSTEU
Game's official site:
http://phantasia.rakeingrass.com
Game's iTunes page:
http://itunes.apple.com/app/phantasia/id362030983?mt=8
Screenshots:

About Rake In Grass:
Rake In Grass (with its casual brand 300AD) is an independent team based in Prague, Czech Republic. Rake in Grass released more than 20 titles on 5 platforms. The most popular are Jets'n'Guns, Larva Mortus or Be a King on Windows/Mac OS X, Archibald's Adventures and Westbang on iPhone/iPod touch.