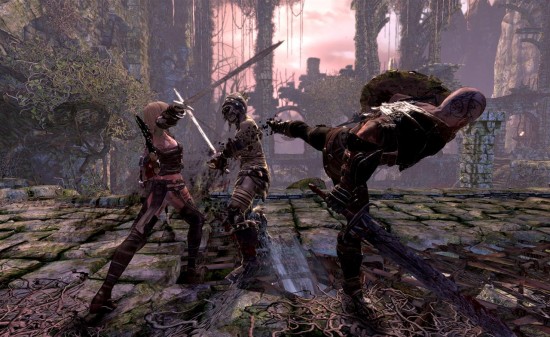 Bethesda announced today that they will be publishing Inxile's newest game, Hunted: The Demon's Forge.
inXile Entertainment was founded in 2002 by industry veteran Brian Fargo. During his distinguished tenure in the video game business, Fargo has been behind some of the greatest fantasy game franchises of all time including The Bard's Tale®, Baldur's Gate®, and Fallout®. Hunted's development is being overseen by Fargo while Michael "Maxx" Kaufman serves as the game's Director. Previously, Kaufman served as Art Director on such titles as Kingpin™: Life of Crime™, Redneck Rampage™ and the award-winning Return to Castle Wolfenstein® at Gray Matter.
Bethesda Softworks president Vlatko Andonov was quoted saying:
"We are thrilled to be working with Bethesda Softworks on this upcoming release that takes us back to our roots," said Brian Fargo, Founder of inXile Entertainment. "Bethesda's track record speaks for itself and the game we are developing for them is no exception."

"inXile has an extremely talented team and we couldn't be more pleased to have them working on one of our upcoming titles," said Vlatko Andonov, President of Bethesda Softworks. "We believe gamers will be really excited about what these guys have in store for them."
This news comes after the disappointing announcement of Inxile's other game Heist was canceled by CodeMasters.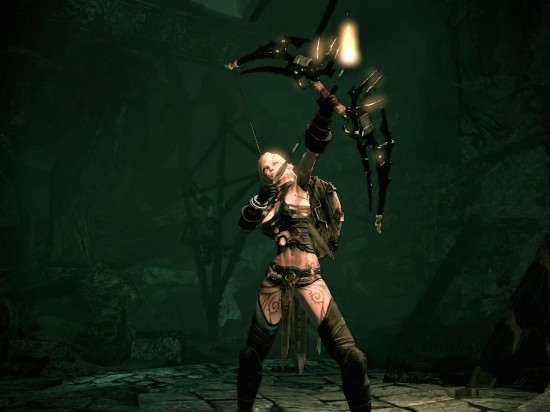 Hunted: The Demon's Forge appears to be a third person fantasy action game where you will take the roll of either E'lara, your standard ranged elf, and Caddoc your typical warrior class. However from all appearances the game looks very dark and the potential co-op abilities will be putting this game on my radar. However there has been no announcement of whether or not you will be able to play co-op online, though this is to be assumed.
An exact release date has not yet been announced, however a bit of the storyline for the game was released as well during this announcement:
The dark ages have become corrupted. Heinous creatures have emerged from underground. Townsfolk across the land are disappearing. Upon the promise of their fortune in gold, mercenaries E'lara and Caddoc take on the daunting task of discovering where the innocent villagers have been taken. Their journey will lead them on a dark and twisted path where they will encounter death, slavery, and sacrifice. Travel deep within the world of Kala Moor…and to the secrets of The Demon's Forge.
Sounds pretty interesting, and it also appears to be a pure dungeon crawler. It'll be quite interesting to see how they take the co-op, will it have echos RE5's co-op abilities? Regardless of that though I am quite interested in seeing where this title will go. Anyone else really interested in this game as well?