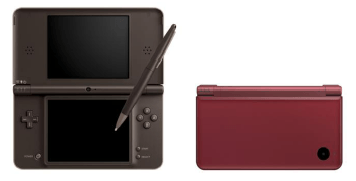 Look at what we have here !! A new Nintendo DSi called the DSi XL !! with a much bigger screen compared to the regular DSi !! This by far a the best thing Nintendo have done as a lot of people I've spoken to about the DSi were not very impressed with the slight increase screen size from the NDS Lite.  Now with the introduction of the XL you can see a huge difference and now you dont have to squint so much when playing on a small screen. 
Check out the official press release from Nintendo after the break :
CLICK ON LINK BELOW TO READ FULL PRESS RELEASE & Details on the DSi XL !!
 Australia, 24 February, 2010
Meet the newest member of the Nintendo DS family – Nintendo DSi™ XL. From 15 April 2010, the new hand held console from Nintendo, will be in available in stores. Nintendo DSi XL is a larger console that contains bigger screens than any of the previous models, a wider viewing angle, the ability to immediately play with pre-installed software, longer battery life, improved sound, and a new, larger, more comfortable stylus.
The screens on Nintendo DSi XL are 4.2", which makes the screen on Nintendo DSi XL 93 per cent bigger than the Nintendo DS® Lite screen. The wide-angle visibility of the larger screens makes Nintendo DSi XL perfect for sharing. Ponder over brain teasers with the person sitting next to you, or even surf the Internet together on the Nintendo DSi Browser.
The Nintendo DSi Browser is just one of the bonus pre-installed software options that comes free with Nintendo DSi XL. Other software already pre-installed includes: Clubhouse Games – Express Card Classics – Play classic card games on your Nintendo DSi XL.
A Little Bit of… Dr Kawashima's Brain Training: Arts Edition – features various challenges based on words, pictures and music that you can use regularly to keep your brain sharp in just a few minutes a day.
Photo Clock – Photo Clock turns your Nintendo DSi XL into a photo frame with added clock and alarm functions.
Flipnote Studio – Flipnote Studio is an application that can be used as a notepad along with the stylus. Users can also replay a number of pages of the memo pad to create animated sequences.
Nintendo DSi XL contains all of the features from Nintendo DSi, including Nintendo DSi Camera, Nintendo DSi Sound and Nintendo DSi Shop. Nintendo DSi XL still plays all of your favourite Nintendo DS games and will be available in two stylish colours, burgundy and bronze.
For more information on Nintendo DSi XL, please visit: www.nintendo.com.au
–
Who's gonna pick themselves up a XL ?  I think it's a great improvement especially for small children and seniors as they have less stress on their eyes.  Your thoughts 🙂