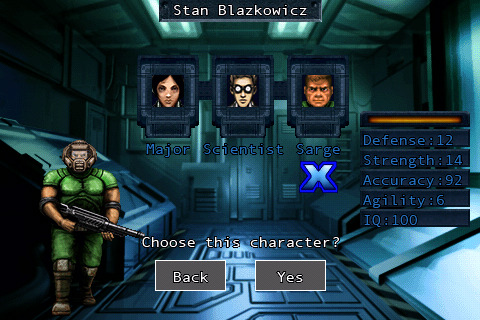 Hell has returned! Prepare yourself for DOOM II RPG for the iPhone, the sequel to id Software's hit mobile game Doom RPG. The forces of Hell have invaded our dimension once again, and only you can stop them from their ultimate goal—conquering Earth!
Yes another great RPG game for your Apple iPhone.  DOOM II RPG by id Software has arrived.  If you enjoyed the Wolfenstien RPG as its created by the same people.  Then you will absolutely love DOOM II RPG.  It's
 availabe from the iTunes store for only $3.99 US !!! BARGAIN !!!
Check out its full list of features below :
• Sequel to the 2005 mobile hit DOOM RPG. By the creators of the iPhone hit Wolfenstein RPG!
• Battle through 9 maps, spanning the Moon, Earth, and Hell itself. Over 8 hours of gameplay!
• Choose from 3 playable characters, each with different starting attributes and dialogue experiences.
• Over a dozen unique weapons to find, plus improvised weapons such as Sentry Bots or even plumbing fixtures.
• Eleven different enemy types—each with multiple, increasingly-powerful forms—plus four bosses.
• Upgradeable skill attributes allow you to customize your character for maximum lethality.
• Hack security systems to open restricted areas, hijack sentry bots, or lower prices on vending machines.
• Power up using Nano Drinks to give you an edge in combat.
• Interact with NPCs to get information, solve puzzles and survive the hazardous environment.
• Loot the corpses of your foes to find useful items—or junk.
• Auto-mapping feature and mission-tracking PDA functions ensure you'll never be lost again.
• Customizable controls; change the size, style, and placement of the control inputs.
• Three levels of difficulty will give players of all skill levels a challenge.
• Detailed graphics and complex levels which take advantage of the power of the iPhone.
• Bonus digital comic included!
Who's gonna grab this one ??  comments please 🙂