MasterAbbott recently sat down with Paul Gold of Digital Leisure inc.  Digital Leisure inc. are the newest Product Sponsors of Capsule Computers.   Digital Leisure was formed in 1997 with a vision of acquiring, re-mastering and publishing existing video-intensive games that would benefit from the superior video and audio quality of DVD and bringing these interactive titles to DVD movie players, PC DVD-ROM and PC CD-ROM systems.  Digital Leisure have re-mastered and published one of the most famous games of our time.  DRAGON'S LAIR !! and many many other great games.  Read the interview with Paul.  I believe this one of our best and most informative interviews thus far. 

–
Question 1 – Tell us a little bit about yourself and what you have worked on in the past.  And how long you have been working at Digital Leisure.  Also tell us a little bit about Digital Leisure.  How were they created, when was it first established, and how many employees does it have today.
I've been a huge video game fan the day I received my Commodore 64 as a birthday present. Now, I guess a few decades have past us, but that is still one of my favourite systems ever – and I still have the original one up and running! But that was the day I fell in love with all things tech and lead me to Digital Leisure, which I have now been working at for 10 years! Digital Leisure started off very small with the vision of taking many of the most beloved classic games and bringing them to current formats. Since those humble beginnings, we now have about 10 employees working on a variety of projects on the Nintendo Wii, Nintendo DSi, iPhone, PC Gaming and even Blu-ray HD Gaming!
Question 2 – What have been Digital Leisure's greatest challenges, in developing and remastering possibly some of the greatest games ever made (The Dragon's Lair series) in the history of video games ? What sort of issues or speed bumps did the company face along the way ?
When it comes to remastering any type of footage the greatest challenge is not somehow destroying something that makes the game classic. We knew we didn't want to start 'fixing' any of the animation per se, we just wanted to give the game a freshening up. The game was properly colour corrected and cleaned frame by frame to ensure that an entire new generation could see Dragon's Lair in all its glory.  If anything sticks out as a major speed bump it would be the length of time it took for the clean up to take place. We wanted to make it perfect, and suddenly it had been six months and we still hadn't completed the game yet! But the delays were worth it, and everyone agrees that the footage looks even better than the original arcade laserdisc, which is a nice compliment.
Question 3 – For people that don't know anything about, Dragon's Lair.  How would you describe the game, gameplay and storyline to them and most importantly the main character.
Dragon's Lair is a classically animated game where you take on the role of a bumbling knight on a quest to rescue his girlfriend, Princess Daphne, who has been kidnapped by an evil wizard. What makes Dragon's Lair different is that you don't necessarily control the character as more traditional games would have you do, but rather you make moves and react based on what is happening on screen at any given moment.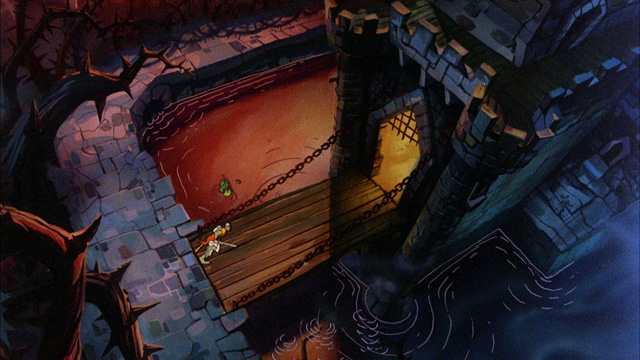 Question 4 – Dragon's Lair was developed by Rick Dyer and featured spectacular quality animation by Don Bluth.  Do Digital Leisure still keep in contact with both Rick & Don for assistance and guidance when your working on releasing future titles of the Series ?
For sure! We are direct contact with all of the original creators of the game, including Don Bluth, Gary Goldman and Rick Dyer.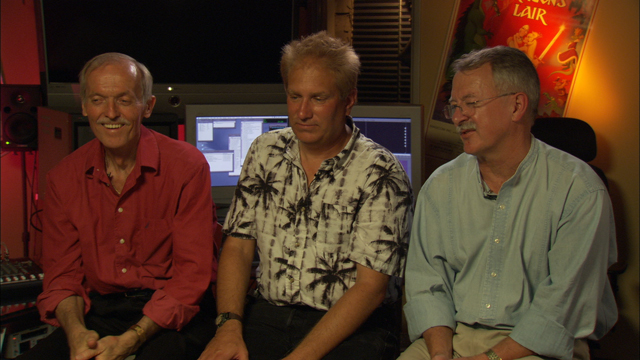 Question 5 – What extra features/modes/ etc have Digital Leisure added to the Dragon's Lair series, That were not released in the original game.  eg New Levels New Enemies, New Sounds/Voice acting etc.
We strive to ensure an arcade authentic experience for Dragon's Lair and have never altered any of the original released game. However, for the 20th Anniversary Don Bluth Films was kind enough to give us access to their archive and we recreated the 'Gargoyles' scene which has been originally cut from the game. As well, for the Dragon's Lair II: Time Warp Blu-ray release we pieced together a short animatic of the cut 'Pirate Ship' scene.
Question 6 – How many versions of Dragon's Lair have been released since Digital Leisure acquired the rights to the game.  And on how many consoles/platforms has Dragon's Lair been released on.
Well, Dragon's Lair is still inching towards Tetris for the most ported game in history, but we are still a few ports off! J I don't have an exact number of releases, but I believe since 1984 there have been close to 60 different ports on a variety of consoles.
Question 7 – How long was the original development cycle for Dragon's Lair.  Could you briefly explain the start to finish phases: storyboading, concept art etc. 
This question is probably better suited for Gary Goldman at Don Bluth Films, but I believe development was started in middle of 1982 by Rick Dyer and was eventually released as a full arcade system by Cinematronics in June '83.
Question 8 – AND now that the hard yards have been done, is it simple to port over Dragon's Lair to other device for example the new versions currently released on the Apple iPhone and Nintendo DSi.
It would be great to say "Oh, it's simple to port it – just the push of a button!" But with each version there are quirks, issues and problems that always require a very specific solution.  As well, each screen is always a different size and we re-work the video to provide the best Lair gaming experience.
Question 9 – What engine / technology is used in getting Dragon's Lair up and running on the many different consoles that it's available on. Is the engine and core mechanic the same or does it need to be changed and re-developed from the ground up each and every time.  On average, how many developers / programmers are involved in creating Dragon's Lair.
The core game technology is always maintained to ensure the arcade experience is as authentic as possible for each format. However, there is always some type of re-development required for each system Dragon's Lair is ported to. Depending on the format, there would be 3-5 people assigned to the product re-development of a Dragon's Lair title.
Question 10 –  Run us through some of the enemies and challenges that Dirk will face on his adventure in Dragon's Lair. 
Some of the most fun players will have in Dragon's Lair is simply killing off Dirk in a variety of scenes. Each of games 'death scenes' always provide a smile from whoever is playing. There are a bunch of fun enemies that Dirk will run into in his quest, enemies like the Giddy Goons, Mudmen, Lizard King, the list goes on!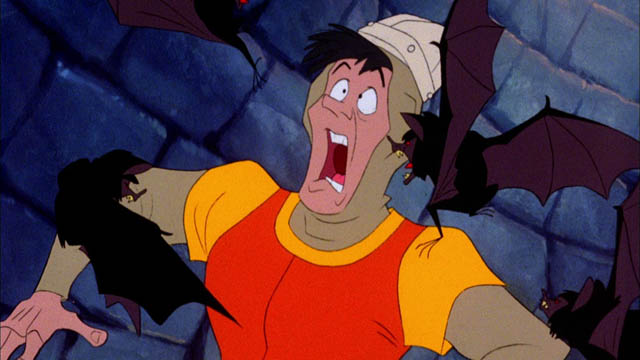 Question 11 – How would you describe the game mechanics of Dragon's Lair.  What do players need to do to in the game.  How are the controls setup ? Is it be easy for all players to pick up and play from beginners to hardcore gaming professionals
Dragon's Lair has a very simple control setup allowing anyone to quickly pick up a controller and start playing. In Dragon's Lair you need to react to what is happening in a scene to allow Dirk to continue on his quest. If you make the wrong directional move, you'll see Dirk die in a fairly hilarious fashion.
Question 12 – Who is Digital Leisure's favourite character in the Dragon's Lair series and Why ? 
Well, my favourite character in Dragon's Lair is the Lizard King. The level is just animated so vibrantly, and the character battle between Dirk and the Lizard and the death scenes are very funny.  For Dragon's Lair II, I'm a big fan of the Beethoven sequence. Everything in that scene is just phenomenal, the music, animation – just a lot of fun.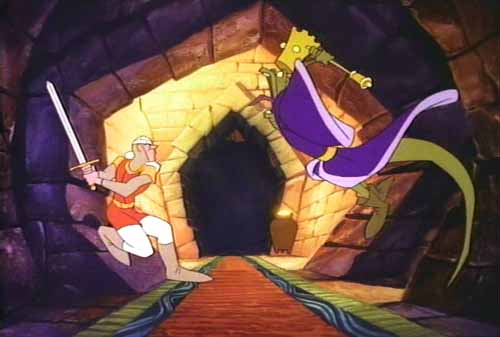 Question 13 – What level do you and the team think is the HARDEST to pass in the Dragon's Lair series.
Honestly, having played the game hundreds of times, none of the levels are all that hard anymore. But when I first started playing, I remember being stumped by the timing on the Mudmen and Dragon's Lair scenes.
 Question 14 – Have Digital Leisure ever thought of creating and branching off the Dragon's Lair series into different style genre's like a Dragon's Lair RPG style game ? OR even an Animated movie !!
 There has always been talk of taking Dragon's Lair to the next level with a variety of differently styled games, but nothing has materialized as of yet. However, Don Bluth Films has been working on an fully animated movie for some time, and hopefully we'll see Dirk up on the big screen in the near future!
Question 15 – What can players / consumers expect from Digital Leisure moving forward.  Are there already plans or upcoming games that you are able to let your fans know about ?
We have a lot of products in development on a variety of systems. We recently released arcade classic Fast Draw Showdown on Nintendo's WiiWare gaming service and we plan to follow up Fast Draw with a variety of WiiWare and DSiWare games over the coming months. We also hope to be making an official announcement very soon on some new platforms that Dirk will be popping up on! More details will follow when I have them.
Question 16 – Finally.. What do you love most working at Digital Leisure 😉  ?
Digital Leisure is a really great environment to work in. We have a hard working and creative bunch that enjoy developing and remastering games for a variety of consoles.  Not many people can say they look forward to coming in to work on a Monday, but we honestly love what we do!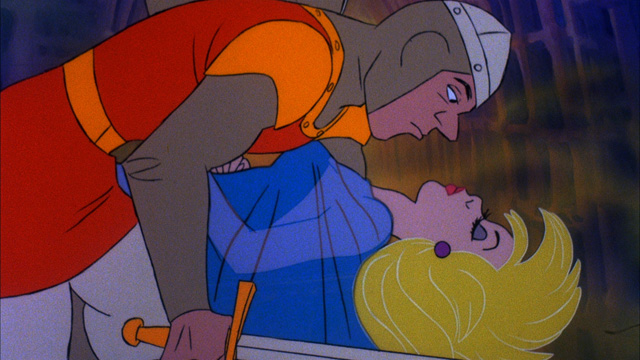 –
Once again Capsule Computers would like to thank Paul  for taking the time from his busy schedule in answering these questions and informing our readers about Digital Leisure, its history, its games and it's future.   I for one am VERY excited about what Digital Leisure have in stall for us moving forward 😉
–
Let us know what you thought of the interview.  Leave a comment below