MasterAbbott recently sat down with Bogdan of Angry Mob Games.  Creators of Guerrilla Bob recently released on the Apple iPhone / iTouch.  Angry Mob Games is an independent company, formed by veteran game industry players, who set their goal to raise the quality of iPhone and iPod Touch titles, and deliver first-rate, polished, high quality titles and I believe that Angry Mob have done just that with the release of  Guerrilla Bob.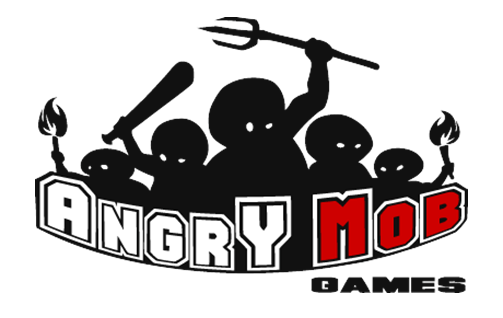 Enjoy the interview 
Question 1 – Tell us a little bit about yourself and what you have worked on in the past.  And how long you have been working at Angry Mob Games.  Also tell us a little bit about Angry Mob Games.  How were they created, when was it first established, and how many employees does it have today. What's the deal behind the name ANGRY MOB .. Are you all angry over there ? 🙂
We're a rather small team of 2 designers/artists, 1 programmer and 3 additional artists. We all met at an anger management seminar and decided to channel our anger into an iPhone shooting game. 🙂 Before starting the work on Guerrilla Bob for the iPhone and iPod Touch, we have worked on various console titles, for the Xbox 360 and PS3, like Smackdown vs RAW, Fuel and Saints Row 2.
 
Question 2 – What have been your greatest challenges designing and developing your first game Guerrilla Bob  for the Apple iPhone / Touch.  Run us through some of the issues or speed bumps you faced along the way.
Guerrilla Bob was set to be a stylized and funny top down cartoon shooter. We planned to follow the classic rules of top down shooters, but our designers fell in love with the game so much, that they kept adding new features all the time. That's one of the reasons why the development took a little over eight months.
Other than that everything went pretty smooth. Because of our experience with previous console titles, the art pipeline was really straightforward and we knew right from the beginning what it would take to have the best looking characters, environments and animations, while keeping them optimized for the iPhone.
Question 3 – Have Angry Mob Games developed any other games prior to iPhone Market ? And If so what were they ?
Guerrilla Bob is our flagship title, and we took a lot of time to make it the most polished and fun experience that we could. Prior to this, our team has worked mostly on work for hire projects for different console titles that I previously mentioned.
Question 4 – For people that don't know anything about, Guerrilla Bob.  How would you describe the game and storyline to them and WHO IS Guerrilla Bob … WHAT's HE ALL ABOUT 🙂
Guerrilla Bob it's all about quantity, the quantity of dead enemies. He's the best at killing them so this is what he decided to do. The army was going to nuke them but he sabotaged the plan just so that he can take them down one by one. He doesn't really care how the enemies go; they can be suddenly hit by a deathly bullet, blown up by a nasty rocket of burned down to ashes. As long as they're gone he's satisfied.


Question 5 – What extra features/modes/ etc did you add to make Guerrilla Bob stand out in the crowd of other action/shooting style games that are out in the market at the moment.
We set out to provide a deeper experience by including more complex levels, and a lot more variety. These are lessons we learned from the console space. Guerrilla Bob will have the player exploring the levels as he progresses. They are still laid out in a linear fashion, but there will be secret areas to uncover, with all sorts of powerups. The game will also feature a survival mode, which will have Bob fight against an endless army.


Question 6 – How long was the development cycle for Guerrilla Bob.  Could you briefly explain the start to finish phases: storyboading, concept art etc
The development cycle was a bit more than eight months. We first started in May 2009, with a game prototype. That's where the programmers implemented the basic top-down shooting gameplay, and the controls.
Then we started adding the art assets. That's when everybody got really excited about the project, and we all felt that we're building something really special.
We spent about three months developing only one level, where we implemented all the gameplay rules, all the enemies and Bob's abilities.
By the end of September 2009, we had finished most of the levels. Then we decided to do a quick trailer for the game and make a short 3D cinematic. Because all our artists have a great experience with such 3D animations, they used all the tricks in the book to make it look spectacular.
It took 4 artists one month to finish 20 seconds of animation.
Now we're in the beta testing stage and the game rocks.
Question 7 – What engine / technology is used in getting Guerrilla Bob up and running on the iPhone, how many developers / programmers were involved in creating it.
We used an engine highly optimized for the iPhone. We managed to squeeze every last bit of the iPhone and iPod Touch, while ensuring that the gameplay experience is just as fluent on the first generation iPod Touch model, as on the newest iPhone 3GS.
Question 8 – What was your main reason for creating a fun and exciting action/shooter game like Guerrilla Bob?  What other games if any were influential in aiding the creation of Guerrilla Bob.
All the guys at Angry Mob Games have great memories of the classic arcade shooters, so we decided to have our own take at them.
For our art style, we were mostly inspired by movies, like Pixar's Up, classic console titles, like Metal Slug, and great artists, like Simon Yuio and Moises Braga.
Question 9 –  Run us through some of the enemies Guerrilla Bob will be blowing up along the way, and who came up with their weird and whacky names.
We tried to give a funny personality to each character in the game. That's why Bob will be fighting all those weird and whacky guys, instead of just shooting at tanks and helicopters 🙂
Some of the little mean dudes are Johnny Boom, Pyro Billy, Joe Bombero and Boris the Bullet. Their daddies are much tougher, like Bubba Gun, Sam Butchefeller, Mucho Dolor and Rocket Rupert.


Question 10 – How would you describe the game mechanics of Guerrilla Bob.  What do players need to do to in the game.  How are the controls setup ? Will it be easy for all players to pick up and play from beginners to hardcore gaming professionals.
It's a dual stick shooter game. You move Bob with you're left hand and you make him shoot with you're right hand, as he makes his way through dangerous canyons, steep deserts and dreadful towns, all the time surviving countless attacks. The game features easy and hard mode so that it'll be challenging for both beginner and professional gamers.
To make things even more challenging, Bob also gets stuck into some epic boss encounters.
But helping you along the way, you'll get to uncover an arsenal of big guns and secret items.
The game will have multiple difficulty levels, and a comprehensive scoring system that will link into global leaderboards too. 
 
Question 11 – How many styles of weapons with Guerrilla Bob have at his disposal at any one time and how many types of weapons will be available throughout the game ?
Bob will be using three weapons; a machine gun, a rocket launcher, and a flamethrower. He'll be able to upgrade them while advancing through his journey by finding hidden power-ups.
Each weapon is better suitable for a different type of enemy. The rocket launcher can be used against Flamethrower-equipped foes; suicide barrel huggers can be dispatched with the machine gun while the enemies hiding behind covers can be easily neutralized by using the flamethrower.

Question 12 : Please explain Crystal what is it ? what can it do and who makes it ?
Crystal is a free-to-use social networking platform, offering complete customization, easy integration, Unity support, Facebook and Twitter integration, and a variety of game community features such as leaderboards, challenges and achievements.
Question 13 : Why did you descide to go with Crystal instead of Open Fient ?  At the moment there are hundreds of iPhone/iTouch apps out there already taking advantage of that technology.  Please explain the reason why you went down that path.
The main reason we chose Crystal is because Open Feint was so full of apps, and very few of them were high quality ones. Crystal will be used in the best titles published by Chillingo and also on high quality titles made by independent developers. It's got all the features of the other social platforms, plus it's super easy to use, takes a few clicks to integrate and it's fully skinnable, so it integrates very nice with any game interface.
Question 14 : For the people who dont know.  Who is John Gore.  Why was he used in Guerrilla Bob ?
John Gore is the superstar from MiniGore, developed by Mountain Sheep. Guerrilla Bob and MiniGore use similar gameplay mechanics, yet they are two totally different experiences. Kimmo and Timo Vihola from Mountain Sheep had the idea to let the two characters play together, as John Gore seemed a perfect fit.
Keep an eye out for MiniGore, as Guerrilla Bob could make it a visit too.
Question 15 – When can people expect to see Guerrilla Bob available to buy and download from the App Store.  And how much will it cost ?
 The game will be ready for submission at the beginning of January 2010. We're not sure about the price yet.

 
Question 16 – Will there be any updates or expansions planned for Guerrilla Bob, after it's released ? if so what will be included in the updates and roughly when will they be available.

We plan to send Bob in some really interesting missions in the jungle, in future updates of the game. We may even send him in some cold winter missions.


Question 17 – Trophies / Achievements are what drive a number of players to play games now-days .. Does Guerrilla Bob have goals to accomplish  or achievements to unlock.  And if not will there be any possibilities of adding them in future releases / updates.
 We plan to add around 20 really cool achievements. 

Question 18 – Is there any multiplayer options in Guerrilla Bob ?  Please explain how this will work.
 We may consider the multiplayer feature for a future update of the game, too.
Question 19 – What can players / consumers expect from Angry Mob Games moving forward.  Are there already plans or upcoming games that you are able to let your fans know about ?
 In the future we'll probably focus on new features and updates for Guerrilla Bob. At the moment, we don't have any new games planned, as we really enjoy working with Bob.


Question 20 – Finally.. What do you love most working at Angry Mob Game, apart from being angry all the time 😉  ?
 We love all the freedom we have to express our ideas into great playing experiences.
That's what's so great about working at Angry Mob Games and about being an indie developer.
I also believe that any indie developer can be successful by pushing forward the craziest ideas.
That's what makes the iPhone gaming space so exciting.
–
Once again Capsule Computers would like to thank Bogdan  for taking the time from his busy schedule in answering these questions and informing our readers about Angry Mob Games, its history, its games and it's future.   I for one am VERY excited about what Angry Mob Games have in stall for us moving forward
–
Check out some of the screenshots from Guerrilla Bob Below :
Let us know what you thought of the interview.  Leave a comment below