This straight from the Horses mouth.  Uncharted 2 : Among Thieves on the Playstation 3 developed by Naughty Dog has jumped all the way to 2nd best game of all time on the Playstation 3 according to Metacritic.com
Check out it out below .. So far the highest rating game of all time on the Playstation 3 is Grand Theft Auto 4 with a score of 98 – this based on 64 critic reviews
Uncharted 2 : Among Thieves could potentially topple the top dog off its throne.  Currently Uncharted 2 has a metacritic score of 97 based on 41 critic reviews
So if another 20 or so more critics review Uncharted 2 and give it a score better than 98 or above, we could be looking at the best game on the Playstation 3 of all time.
Who's willing to place their money on this happening ?? I'd throw in a few dollars as I believe it's got what it takes to topple GTA4 off its perch as king of the mountain !!
Only time will tell..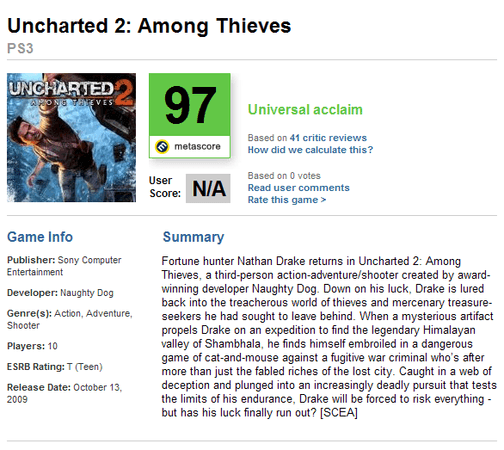 –