Capsule Computers recently had the pleasure to briefly interview Kasper Lapp, producer of the amazingly fun and addictive Whach-A-Mole on the Apple iPhone / iTouch.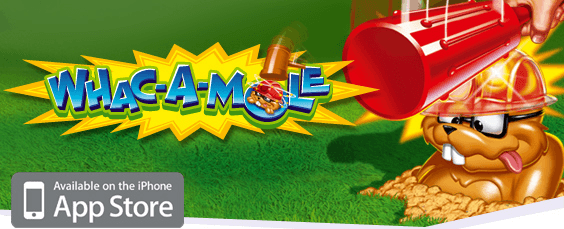 Check out the interview below :
Capsule Computers Question 1 : When was Kiloo Studios first established.  How many employees were employed at the time ? And how many employees are currently employed now ?
Kasper : Kiloo was established in 2000 and has grown from two people sitting in a private apartment to fifteen people placed all over the world – mainly in Århus, Denmark, though.
Capsule Computers Question 2 : What do you believe have been your greatest challenges designing games for the mobile phone market ?
Kasper : Our main focus has previously been J2ME games, and as the amount of devices on the market grew, so did the work and headaches trying to support them all. That is why we love the iPhone so much: You just have to develop the game for one device (well two, if you count the iPod Touch separately). It gives us more time to focus on developing the actual game.
Capsule Computers Question 3 : For anyone new to the Whac-A-Mole universe can you briefly describe what type of game Whac-A-Mole is.  And what do players need to do ?
Kasper : Well it's quite simple really: When you see an annoying mole stick its head up, you whack it with your giant hammer 🙂 But we've extended the concept with weapon upgrades and mini games – and four different game modes. In some of the game modes, you will actually have to think before you hit the moles 🙂 In the Master Mind game mode for example, you have to find out which kind of mole to hit where. It's quite tricky.
Capsule Computers Question 4 : What was your main reason for creating a fun and exciting game like Whac-A-Mole ? 
Kasper : The concept is perfect for the iPhone with its touch screen. Actually there are quite a lot of Whac-a-Mole copies on the App Store, but we noticed one thing: They were all horrible! They all lacked the feeling of actually hitting the moles, which is an essential part of the fun. And they also lack the extra spice that we've added to the game.
Capsule Computers Question 5 : Will Kiloo Studio's release any updates to Whac-A-Mole or add any new features in the coming months.  Such as Achievements/Trophies or extra power ups or modes etc.
Kasper : We are currently considering adding achievements and online high-scores to the game. No decisions have been made yet.  But we are working on a wacky Christmas Edition.
Capsule Computers Question 6 : What can players / consumers expect from Kiloo Studios moving forward.  Are there already plans or upcoming games that you are able to let your fans know about ?
Kasper : We've got some great action puzzle games coming up. Wait and see 🙂
–
Special thanks goes to the Kasper and the Kiloo Studio for taking the time from their busy schedules to answe these questions.  We look forward to speaking to them again soon in the future cant wait for what they have in store for us all next.
If you have not already done so .. download your copy of Whack-A-Mole now from iTunes for only $1.99.. click on the link below
–