Brand New Monster Hunter Screenshots Courtesy of Capcom from Tokyo Game Show 2009.  Information on Monster Hunter also Below.  Enjoy 🙂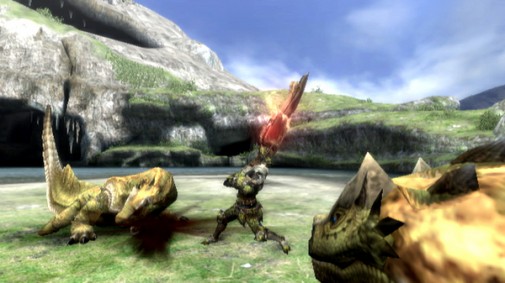 INFORMATION
Release Date: Spring 2010
Genre: Hunting Action
Platform: Wii
Rating: TBC
Developer: Capcom
Producer: Ryozo Tsujimoto
Game Description:
Monster Hunter Tri is coming to the West in early 2010 and for the first time Western Wii owners will be able to join the hunt as one of Capcom's leading franchises makes its debut on the system.
One of the most strikingly beautiful titles ever developed for Nintendo's Wii, Monster Hunter Tri depicts a living, breathing ecosystem where man co-exists with the fantastic beasts that roam both the dry land and the brand new sub-aqua environment – a first for the series.
Monster Hunter Tri sees the introduction of an expansive story mode with players taking on the role of a hunter, who is tasked by the Village Chief to investigate the constant earthquakes that threaten the everyday life of Moga village. A bustling and vibrant town, Moga is home to the hunter and includes a Blacksmith for forging weapons and armour, a shop where items can be purchased and an expanded farm with Felynes acting as labourers and tending the crops. The incentive to complete quests is now no longer limited to the collection of items and money with which the hunter can create or upgrade armour and weapons. Successful hunts have a real and visible impact on the status of Moga Village as on returning home quest items are used to repair damage caused by the earthquakes resulting in happier and more active villagers.
Living the life of a hunter need never be a solitary experience with the option of split-screen mode where two players can hunt co-operatively on select quests or form a team of up to four hunters via the game's custom online Wi-Fi mode. Even solo players do not have to face Monster Hunter Tri's challenging quests alone as they will be ably accompanied by Cha-Cha, an AI hunting partner whose skills will prove invaluable.
Complementing the new creatures and quests that Monster Hunter Tri introduces to the series, hunters will also have the benefit of new weapons, armour sets and items. These include an all new weapon class the SlashAxe and a Torch that not only illuminates the darkest cave but will fend off certain creatures to assist them as they embark on the most epic Monster Hunter adventure to date.
The Monster Hunter series has sold over 10 million units globally and has given rise to dedicated "Monster Hunter Summer Training Camps", "Monster Hunter Festivals" and numerous licensed products.
Features:
Graphics: Breathtaking graphics reveal one of the most beautiful games ever developed for Wii
Environments: Introduction of gorgeous new environments, including underwater and volcano present new gameplay mechanics and the ability to fight the fantastic beasts above and below the water.
Updated Ecosystem: A fully developed world finds man and monsters existing side by side in a living and breathing ecosystem where monsters not only interact with the hunter, but with each other as well.
Controls: Choose between three different control configurations using either Wii Remote and Nunchuck or Wii Classic controller to determine which best suits your style of play.
Online: Capcom's proprietary online wi-fi mode allows up to four players to connect online with ease.
Enhanced Single Player Mode: Monster Hunter Tri's introduction of an enhanced single player mode which eases players into the world of Monster Hunter delivering a series of quests that introduce game mechanics slowly.
Accessibility: Updated user interface makes it easy for players to select the right tool for the job via visual cues which aide in managing items for mining, gathering, carving, and more.