Tomorrow 09/09/09 The Beatles the greatest band ing history will be coming to the Xbox 360, Playstation 3 and Wii gaming consoles, with The Beatles : Rock Band. Thanks to Harmonix & EA.
Fan will now be able to experience the Beatles legendary story from the inside.  You won't just be able to watch and listen as the Beatles make history, create landmark records and conquer the world.  This time and for the first time you'll be a part of it.
Join John, Paul, George, and Ringo onstage at legendary shows, behind closed doors in the recording studio, and in dreamscapes that bring their psychedelic imagery to life. The acclaimed Rock Band elements of interactive play and full band capacity are here, but with brand-new additions. This will be the first music game to offer harmonies, challenging you to recreate The Beatles' vocal blend. There are custom-built models of the instruments the band itself played, audio straight from the masters, and graphics that take you on a magical tour through the key moments in Beatles history. Master the songs to hear rare audio and view unseen photos from the archives!
Check out the gameplay trailer and enjoy being part of history tomorrow.
–
[youtube=http://www.youtube.com/watch?v=9JOaMf2t3pE]
–
Below is a song list that spans the length of The Beatles' career, including: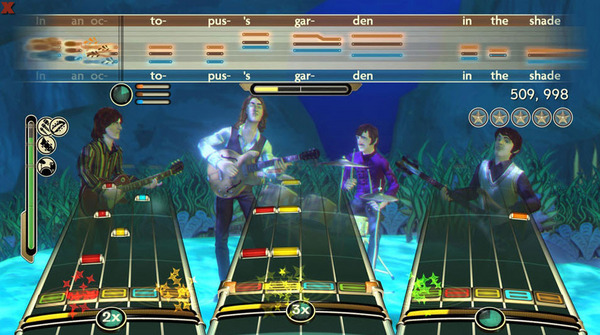 I Saw Her Standing There
Boys
Do You Want To Know A Secret
Twist And Shout
I Wanna Be Your Man
I Want to Hold Your Hand
A Hard Day's Night
Can't Buy Me Love
I Feel Fine
Eight Days A Week
Ticket To Ride
Day Tripper
Drive My Car
I'm Looking Through You
If I Needed Someone
Paperback Writer
Taxman
Yellow Submarine
And Your Bird Can Sing
Sgt. Pepper's Lonely Hearts Club Band
With a Little Help from My Friends
Lucy in the Sky with Diamonds
Getting Better
Good Morning Good Morning
I Am The Walrus
Hello Goodbye
Revolution
Back In The U.S.S.R.
Dear Prudence
While My Guitar Gently Weeps
Birthday
Helter Skelter
Hey Bulldog
Don't Let Me Down
Come Together
Something
Octopus's Garden
I Want You (She's So Heavy)
Here Comes The Sun
Dig A Pony
I Me Mine
I've Got A Feeling
Get Back
Within You Without You / Tomorrow Never Knows
–