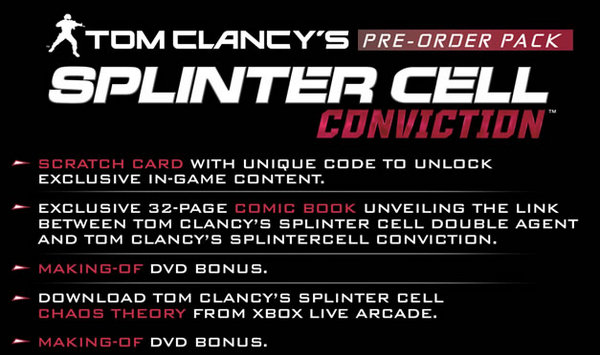 Limited Collector's Edition includes Sam Fisher figurine plus other exclusive content
Tom Clancy's Splinter Cell Conviction is the highly anticipated sequel in the multimillion-selling Splinter Cell series and one of the most critically acclaimed Xbox franchises of all time.
An investigation into his daughter's death unwittingly leads former agent Sam Fisher to discover he's been betrayed by his prior agency, the Third Echelon. Now a renegade, Fisher finds himself in a race against time to thwart a deadly terrorist plot that threatens millions.
Uniting revolutionary gameplay enhancements with a high octane, no-holds-barred storyline, Tom Clancy's Splinter Cell Conviction arms you to the teeth with all the high tech weaponry and lethal skills of an elite operative and invites you to enter a dangerous world where justice means making your own rules.
A full arsenal of cutting-edge innovations allow you to outflank foes with the Last Known Position system, tag and eliminate enemies using the Mark and Execute feature, and much more.
Make sure you pre-order your copy now at all major game retailers !! RRP is approx $119.95 (AUD)
–