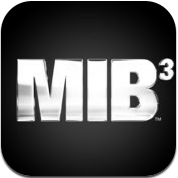 Men in Black 3
Publisher: Gameloft
Developer: Gameloft
Platform(s): iPhone (Reviewed), iPad, iPod Touch, Android
Release Date: May 17, 2012
Price: Free – Available Here
Overview
The Men in Black have been away for a long time.  Nevertheless, these 'nonexistent' people are quite hard to forget.  Of course, they aren't just returning in movie form.  Soda pops, t-shirts and many more items have been emblazoned with MIB monikers. And of course, 'they' also have their own video game.  This review will focus on the iPhone version of the game, although there is also a Xbox and PS3 Men in Black 3 game that  is different entirely.
Does this game have what it takes to live up to fan's memories of past alien lore?  Does it add to the MIB universe in a substantial way? Or is it merely another marketing agent, preying on the sentimentality of people's emotions and the addictive desires of in-app purchases? Find out the following review.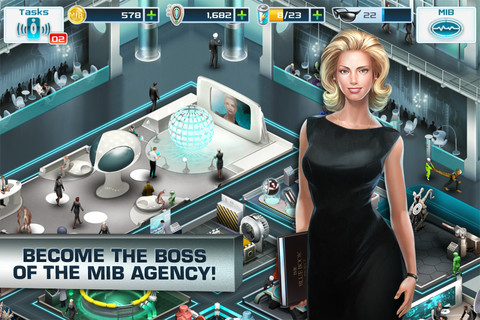 Story
I have not yet seen the movie, but from what I can deduce, the game's plot is inspired by the story of the movie, and they seem to follow each other fairly closely.  Of course, there are numerous side missions and other little variations, but it seems like the main plot follows the film.  Whether that is a good thing or not is up to personal opinion.  If you enjoy the movie, you'll rather like playing it out again, and if you don't, the story doesn't affect the gameplay too much and can be easily brushed over.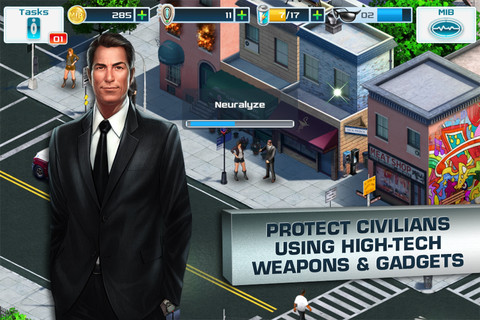 Gameplay
The  culprit of most bad video game adaptions is that the developer was rushed.  Thankfully, the iOS platform allows for speedier development and Men in Black 3 does not suffer at all from any of the standard 'movie to video game' flaws.
You don't actually play as any of the main characters, but the game allows you choose your own identity as a new agent.  You'll be given missions to complete, and once you complete them, you'll be  rewarded.   All over each locale, there are a ton of side quests and missions to complete.  Completing missions can be very addictive, and they are, for the most part, simple.  Tap here to investigate, tap there to question a person, tap over there to neuralyze a witness.
Combat is one mission that pops up a lot. Combat requires you to just tap on the enemy to fire.  During battle, you can manage your resources and health from a menu system, or call in gadgets and resources to help you out.
MIB headquarters is your main base of operations, as is to be expected.  Here, Men in Black 3 turns into a base building game.  You can assign Agents to complete missions, create buildings that pump out resources, research new weapons and gadgets, etc.   A lot of time can be spent here.
All in all, the gameplay can get a little repetitive by the end of the game, but it is also extremely addicting and can be quite fun for many hours.  There is only small issue:  the in-app purchase system is a little unbalanced. Literally everything, and I mean everything, requires energy capsules.  When used up, you need to use TIME  credits to purchase more, or let it recharge over time and by completing specific requirements.  Or, you can use in-app purchases to buy TIME credits.  Time credits also allow you to upgrade items faster and do many other cool actions. If you take out your phone every hour to play the game, then you'll probably be fine.  However, if you want to complete the game in a straight shot, be prepared to be patient or spend some money.   While I don't mind in-app purchases that are balanced, I feel like this game almost chokes the experience with in-app purchase options.  In addition, sometimes it tries to disguise these in-app purchases. Nevertheless, depending on how you play, you may have a different experience, and those annoying pop-ups about in-app purchases don't affect the fun too much.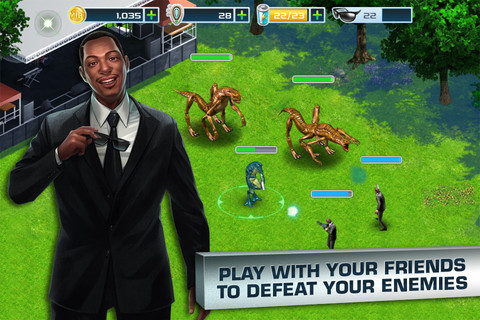 Audio and Visuals
The game sounds great. The score is terrific and the sound effects are amazing. Everything sounds exactly like it was stripped out of the movie.  I would have liked some voice acting to be present, but I don't mind reading everything either.
This game is one of the best looking games on the iOS.  Everything is smooth and renders beautifully.  There are  occasional instances of what looked like texture pop-in, but that hardly detracts from the experience too much. There are plenty of cool enemies, awesome gadgets and more to check out.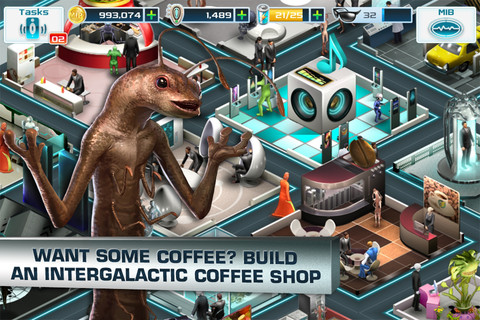 Overall
In conclusion, Men in Black 3 enhances the MIB universe quite a bit.  If you are a fan of the franchise, this game will be right up your alley.  Even if your not, I would recommend that you at least try it out, as it is free. The addicting and fun missions, plus the great graphics, make this a fun iOS game to play.  The constant nagging to check into social networks or buy stuff does get old, but as long as you can get over that, Men in Black 3 is an awesome game.