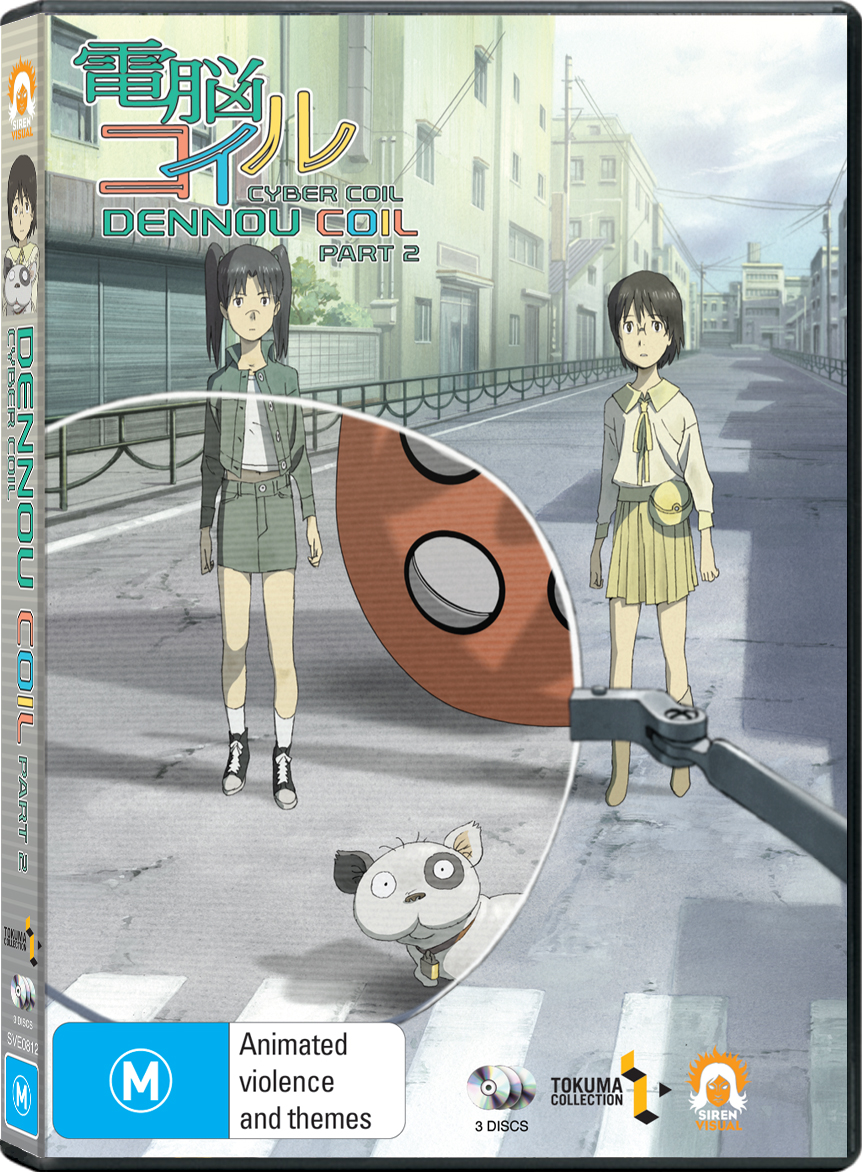 Dennou Coil Part 2
Studio: Madhouse
Publisher: Siren Visual
Format: DVD (English Subtitled Only)
Release Date: December 16th, 2011
Price: $49.95- Available Here
Overview:
I previously reviewed the first part of this series, to which I gave glowing praise. Dennou Coil is a series on a mission with a message to send and it does so brilliantly while remaining compelling as ever.
If you have watched through Siren Visual's brilliant first release of Dennou Coil, then I'm sure your here to see whether it's second part holds up to the standard set by it's astonishing first part. Thankfully I don't have to be a deliverer of bad news, as Dennou Coil Part 2 is a perfect conclusion to an awe-inspiring anime series.
Story:
Dennou Coil Part 2 picks up where we left off with Part 1 at episode 14 which provides us with a recap for those who needed a refresher. There is a lot of intrigue within Dennou Coil and with such a unique futuristic setting there is of course futuristic concepts. The foremost of which as I detailed in my previous review is the projection of the internet across the city.
As I mentioned in my previous review there is many deep themes at play in Dennou Coil and it is a difficult task to summarise them all within a review. So instead I will focus on the two primary tenets of the show.
There is an overwhelming undertone of technophobia in Dennou Coil that other anime just do not have, many embrace technology and all it's glory, but Dennou Coil presents it in a way that is so brutally honest that you may want to just go outside for some fresh air after viewing. We become absorbed in our technology and Dennou Coil intends to highlight it.
While the first part raised this concept, the second part concludes it. With it's ending diving deep into the coil, where Yasako must face the second major theme, which as a matter of fact is the cause of the technophobia theme. That second theme is saying goodbye to those who have passed on.
This is not always the easiest thing to do and at times we can become embroiled in things we normally wouldn't in order to escape the harsh reality that envelops us. Dennou Coil does not shy away from that and in what is one of the most heartbreaking yet rewarding series finales we get a perfect capper to everything that preceeded it. For a series that could so very easily had a bad ending, Dennou Coil pulls through with it's powerful message and deft pacing and wit.
Through the sum of it's characters, fully realised universe and intelligent plotting, Dennou Coil creates what is ultimately one of the best story lines in an anime series in years.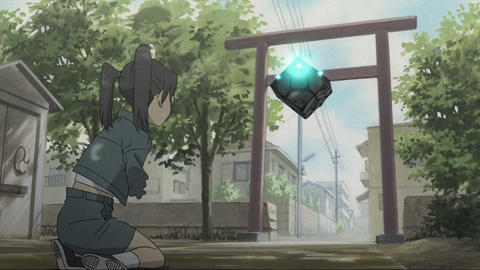 Visuals and Audio:
I'll admit it, at first glance Dennou Coil is visually unimpressive and even repellent to potential viewers, but after watching a multitude of episodes the unique aesthetics used in the series begin to grow on you. The character designs are well done and the world of the series is fully realised both in it's concept and presentation. In the end it's an overall memorable art style that is at times a little simple, but at other times quite detailed and complex, just like the series characters and plot.
When it comes to the audio of Dennou Coil, the series soundtrack is just as good as it was in the first part, with the opening and ending themes being memorable and pleasant in their own right. That's not all though, the voice actors have done an astounding job in each of their roles, leaving Dennou Coil as a highlight for any of their careers. The acting is just so good in this series thanks to voice actors who knew exactly what they were doing.
All in all the presentation and soundtrack of Dennou Coil continues the trend of quality from it's first part without faltering once.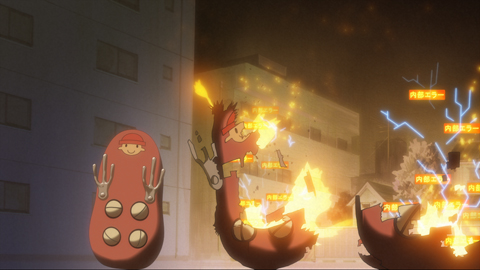 Extras:
Now that's what I'm talking about! The first part of Dennou Coil unfortunately did not feature a whole lot of bonus content, but it's pretty evident now that Siren were saving that for this release, as there is a great amount of special features available here.
There is a plethora of bonus material here, more than any usual anime release would feature and that is truly a testament to the quality of release that Siren Visual have done here. This time around we are given 3 discs (the third is entirely bonus content), packaged in a lovely slip cover as you'd come to expect from Siren and I must say it's a really nice cover art as well. On the third disc which features the extras, there is interviews, trailers, staff Q&A's and much more.
Dennou Coil Part 2 completely makes up for Part 1's lack of extra content and creates a whole other level of replay value, especially when compared to other releases on the market.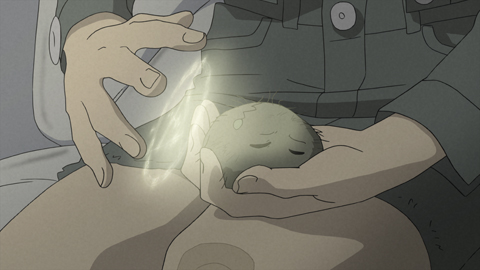 Overall:
Dennou Coil Part 2, provides an amazing conclusion to what is a like wise amazing series. While it is required viewing for watching this part of the series, Dennou Coil Part 1 is somewhat recapped at the beginning of this collection, eliminating the necessity to watch the previous collection. However I highly recommend to fully understand the series and it's concepts that you purchase the first part before making your way to the second (that is if you haven't already).
In conclusion Dennou Coil Part 2 is a masterpiece and without a doubt one of Siren Visual's best releases to date. This is necessary viewing for all anime fans.