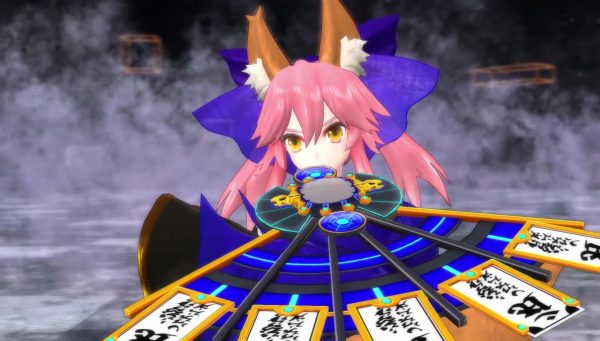 Last week XSEED Games was quick to announce that they are planning on releasing Marvelous' Fate/Extella: The Umbral Star action title and now the company has released some of the first English screenshots for the game as well as some new details about the high-speed title.
Currently Fate/Extella: The Umbral Star is set to be released in North America sometime this Winter for the PlayStation 4 and PS Vita and will feature a number of fan-favorite characters. You can check out the screenshots, some off screen gameplay footage recorded from the E3 floor below as well as a summary for the game from XSEED Games.
The Moon Cell Automaton is a spiritron computer, which exists on the moon and has the power to grant any wish. All across the spiritron-constructed virtual world, SE.RA.PH., Servants and the Masters who control them fight for the right to be the Moon Cell Automaton's one owner in a ceremonial conflict known as the Holy Grail War.

Now, the Servant Nero Claudius and her Master have won the Holy Grail War and have obtained the universal wishing mechanism, the Holy Grail.

They also obtained the Regalia, a ring that proves their kingship. With it, they rule over their once-enemy Servants and start a new beginning on the moon's new world.

But a new enemy has appeared before them. And this enemy has something that shouldn't exist: another Regalia.

A Variety of Fate Universes Collide – Not just Fate/Extra Servants, but characters from Fate/stay night, Fate/Apocrypha, Fate/Grand Order and other Fate continuities make their appearances here. Players can enjoy the action with the original Japanese voice-overs and English subtitles.
A Brand-New Story from Acclaimed Series Author, Nasu Kinoko – As the original creator of Fate/stay night and the scenario writer of Fate/Extra, Nasu Kinoko has created a completely new scenario for Fate/Extella, evolving his highly celebrated universe and characters.
A Large Story Told from Different Perspectives – The story is told from the independent perspectives of three heroine Servants, augmented by various side stories that help supplement the main storyline.
A New Way to Battle – As the first action game in the Fate series, players will finally be able to control a Servant and perform various moves, including a powerful form change ability to transform Servants. Engage in intense battles on the ground or in mid-air to annihilate the enemy forces!