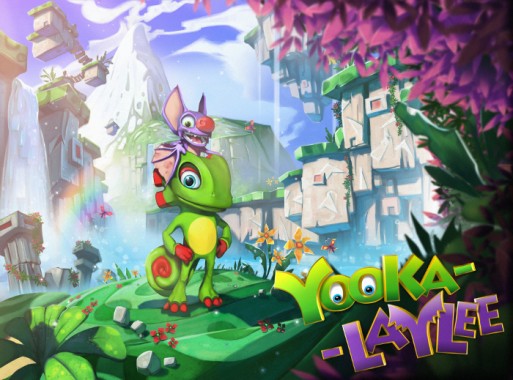 Banjo Kazooie spiritual successor Yooka-Laylee hasn't had much information divulged about it but that all begins to change today on the year anniversary of the project's announcement. Playtonic has raised the curtain on a number of new details including the big bad boss, collectibles and some details about the plot and future plans.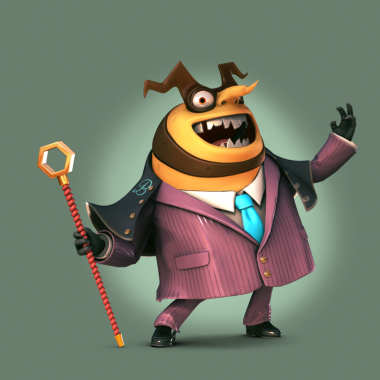 Here is a look at the games big bad, Capital B. He owns Hivory Towers, a diabolical publishing corporation that wants to absorb all of the worlds literature and convert the acquisition into a healthy profit. It seems the beginning of the game will mark Hivory Towers hostile takeover of another company, Quack Corp, which are leaders in the technology field and will help Capital B. and his company achieve his devious goal.
Playtonic are aiming to make a large and lovable cast of characters that will create an over arching story between games and worlds, sort of like the Marvel Cinematic Universe. They assure us their will be plenty of secrets, back stories and punch lines to discover throughout your journeys. They are a bit hard to make out in the picture above, but another two new characters are being revealed here, the hapless, multi-limbed scientist Dr. Puzz and her traitorous former colleague Dr. Quack.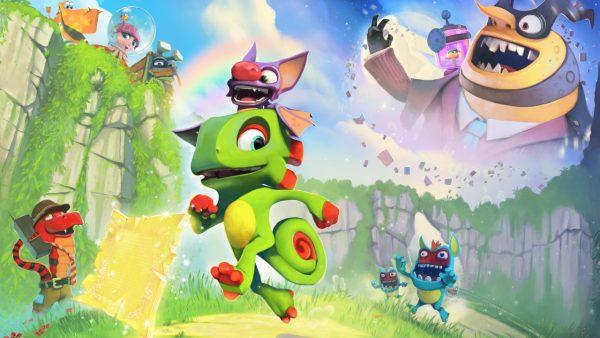 The duck in the bio-chamber on top of Capital B's should is Dr. Quack. He is described as a "ruthless, exosuit-wearing fowl, who's making the best of a bad situation under the corporate rule of Capital B. The good doctor wasn't always this unpleasant, but the ruthless takeover of his Quack Corp organisation has persuaded Quack to concoct all manner of crude inventions to satisfy the demands of his new boss – and the shareholders, of course."
The female octopus who on top of the cliff that looks like shes wearing an astronaut helmet is  Dr. Quack's sweet, naeve prodigy, Dr. Puzz. She has "proved far more morally rigid than her former colleague, breaking ties with Quack Corp as soon as the exosuits started stirring – and taking her own inventions with her. The tentacled technician – designed by Ed 'Mumbo Jumbo' Bryan – is the gateway to all of Yooka-Laylee's wild and wonderful transformations, which we'll be revealing in the near future." So it looks like she will be the stand in for Mumbo Jumbo who transformed Banjo Kazooie into something unique in each world in their games.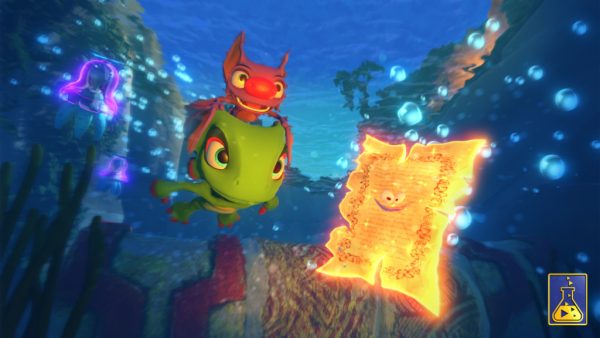 Collectibles are also planned to be a big part of the experience. 'Butterfly Energy' will refill the player's health and the brand new power meter, which is said to have been designed to empower fun and challenging platforming gameplay while avoiding the all-too-occasional tedium of resource management. Pagies seem to be the top level collectable, which will expand the world of the magical Grand Tomes that are being held captive by Hivory Towers.
Quills will be replacing notes, and act as currency that allow Yooka and Laylee to learn new moves that will help them explore land, air and sea and take out new enemies. From the sounds of it, all the moves will be available from the start but it will be up to the player to choose what order they want those moves in. Players are also being empowered by unique Tonic gameplay modifiers, which can be used to customise your play style.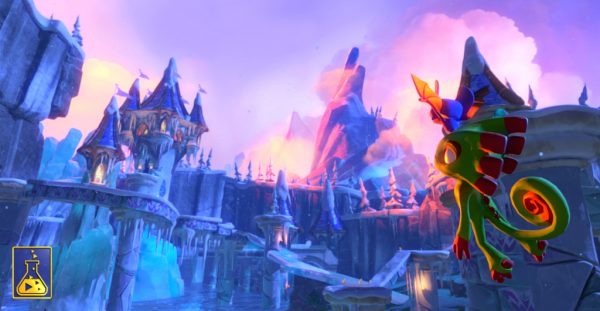 The Toybox, which was promised to most backers of the Kickstarter campaign, is coming in July. The delay is good news, as the Toybox is no longer just a room to jump around in but is now a 'more significant chunk of playable content'. Playtonic describe the Toybox as not a …"traditional 'demo', but a self-contained, spoiler-free sandbox designed to give Yooka-Laylee backers a taste of the platforming to come in the final game. There are plenty moves to try, custom-built props to play with, secrets to discover and yes, shiny collectibles to hunt out."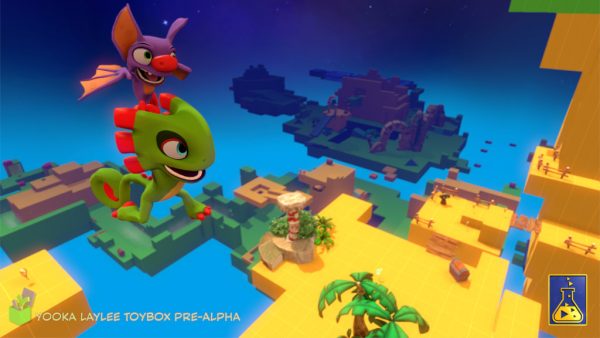 Yooka-Laylee is still on track to be delivered around October 2016 on all major platforms including PS4, Xbox One, Wii U and PC, but the Playtonic team have said they will not hesitate to delay the game to put some final polish on it.
Yooka-Laylee was backed by over 70,000 people on Kickstarter and smashed every single one of it's smash goals with the last one granting free DLC to all backers of the ambitious project. The game and the Playtonic team will be present at E3 so check back from June 14th – 16th for all Yooka-Laylee and E3 updates.