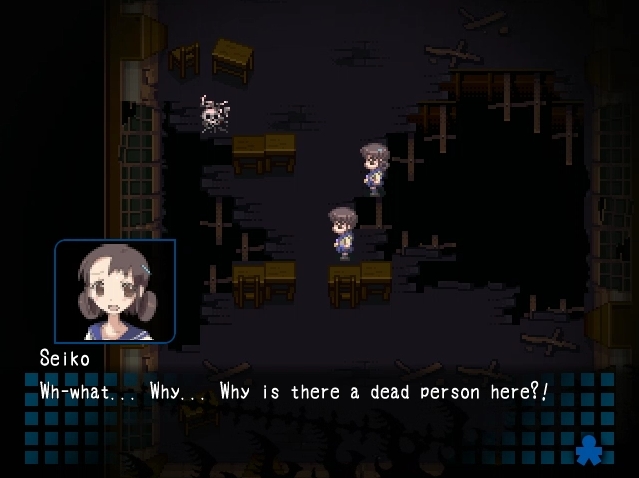 Last year it was announced that the original Corpse Party game would be released on the 3DS in Japan and at the time many people believed that the chance of a localization was slim due to the age of the original PSP release. Well XSEED Games has some good news for these people as they have announced that they will be releasing not only the 3DS remaster of Corpse Party in North America but they are also finally releasing the game that started it all, the PC release of Corpse Party through Steam, GOG.com, and the Humble Store.
The PC version of the game will be released for $14.99 and will be arriving in only a few weeks as it will release on April 25th. The 3DS version of the game will be released sometime this summer and will be available for $29.99 digitally and $49.99 in a limited "Back to School Edition" that will offer a physical version of the game as well as mini figurines of Naomi Nakashima and Seiko Shinohara as well as eighty minutes of the game's soundtrack including a few songs that are exclusive to the 3DS release.
To go along with this announcement the company has released trailers, screenshots, and a bit of info for both versions of the game and you can check it all out below:
Corpse Party 3DS
Remastered from the 2011 PSP game, the Nintendo 3DS rendition of Corpse Party will feature redrawn, high-resolution character sprites, newly arranged music tracks, and 3D art stills, as well as four new Extra Chapters exclusive to this version that provide insight into lesser-shown characters and plot elements previously left unexplained.
Corpse Party PC
Localized directly from the original independent PC version, which was previously never released outside of Japan, the worldwide Windows PC release of Corpse Party will feature all the original art and voice-acting, as well as a bevy of new features exclusive to this version. Among other inclusions, such as multiple endings and scenes that differ from the PSP and upcoming Nintendo 3DS releases, this version boasts four bonus chapters on top of the game's five main story chapters, one of which is a PC-exclusive retelling of the "Tooth" story from Corpse Party: Book of Shadows, recreated with added content in classic Corpse Party adventure style.