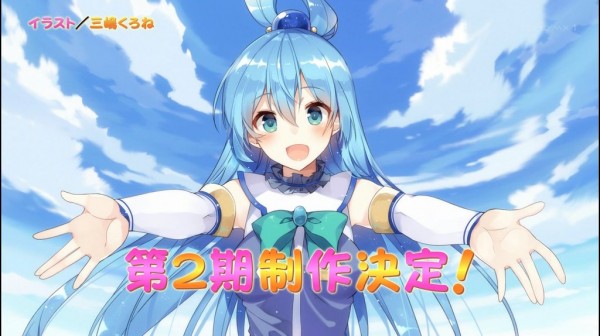 Perhaps the biggest surprise of the entire Winter anime season is that the best show happened to come out of nowhere in the form of a comedy series called Kono Subarashii Sekai ni Shukufuku o!, generally shortened to KonoSuba. The light novel adaptation was only given a ten episode season but has quickly become one of the highest pre-ordered series.
第1期お疲れ様でしたーーー!!!第2期、やったね!! #このすば pic.twitter.com/wdAGDO1Gv5

— 三嶋くろね■3日目西れ-27a (@mishima_kurone) March 16, 2016
Despite that this still comes as something of a surprise, albeit a very pleasing one, and the light novel's illustrator Kurone Mishima has even posted an image, shown above, to celebrate the news.
Oddly enough, at the moment no company in the West has announced the licensing of the anime series for release in the future.