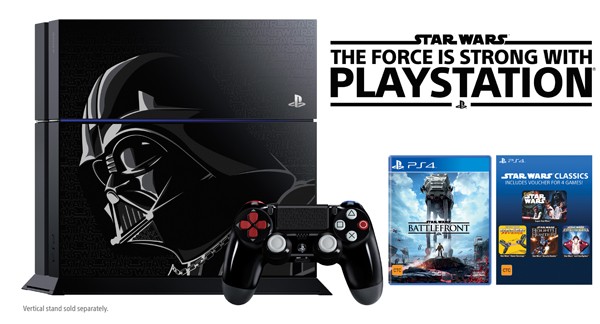 D23 2015 gave us gamers a lot to fawn over. From the truckload of Disney Infinity 3.0 news, to the announcement of Kingdom Hearts III containing a Big Hero 6 level, there was a lot to love. Well the House of Mouse had one more slick item to talk about before the conference wrapped up; a slick new Darth Vader inspired PS4.
Launching alongside Star Wars: Battlefront on November 19th, the new console (which you can check out above) is emblazoned with the Dark Lord himself and also contains a controller in his image. The bundle also comes included with Star Wars: Battlefront, as well as codes to digitally download Super Star Wars, Star Wars: Racer Revenge, Star Wars: Jedi Starfighter and Star Wars: Bounty Hunter.
While it might not be as detailed as the Star Wars Xbox 360 from a few years ago, the Vader PS4 in my opinion looks pretty slick. Sony is selling the bundle for about $599AU and will  be available on November 19th.