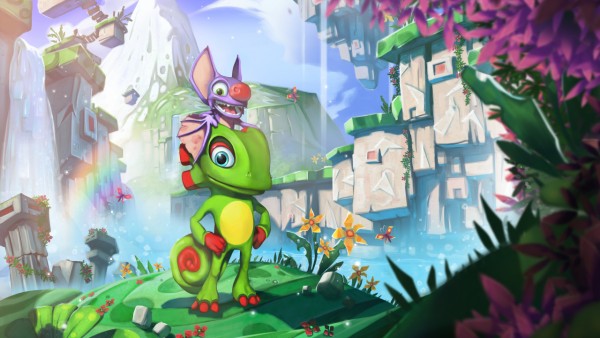 Playtonic's spiritual successor to Banjo-Kazooie formerly known as Project Ukelele has had some big details revealed. First off, the games name real name is Yooka-Laylee (pretty clever their Playtonic) and the lead characters are thus, Yooka, a chameleon, and Laylee, a fruit bat. There is no doubt the inspiration for these characters, the name and even the entire game came from the much loved Banjo-Kazooie.
As expected, the two characters work together and use their unique abilities to fight enemies and run around the world. So far we've seen Yooka roll into a ball to go faster and Laylee carry Yooka to perform an extended jump, much like how Kazooie used to carry Banjo. It is also reported Yooka can use her tongue like a grappling hook and Laylee can perform a sonar blast attack.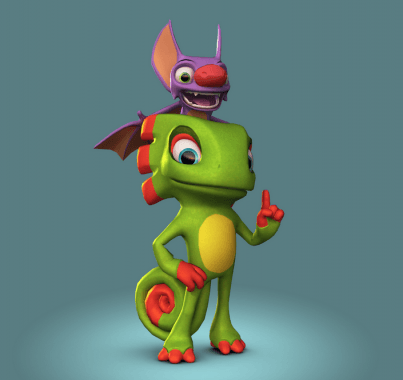 The Kickstarter for the game begins tomorrow and based on it's success, Yooka-Laylee will be coming to PC, Mac, PS4, Xbox One and Wii U. All backers will be able to pick up the game for about $15 U.S. when the final version is released. We'll bring more details once the Kickstarter goes live tomorrow at 5pm BST (midnight in Australia) where heaps of new media including much anticipated tracks from the games soundtrack are set to be revealed.
Please let us know in the comments below your thoughts on these new heroes. It took me a little time to warm up to them but I think they will be great in action. For some reason I'm really hoping Yooka is a girl and that has been teased on Twitter so there is a good chance that will come true.