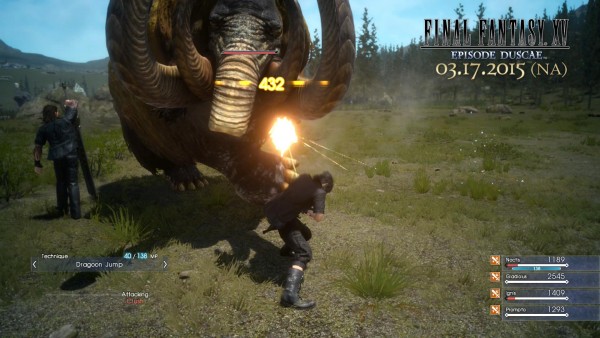 Over the weekend at PAX East Square Enix revealed some new details for Final Fantasy XV as well as some new screenshots. Some newly revealed information about the Final Fantasy XV: Episode Duscae demo includes the fact that the region players will be able to explore in the demo is only a tenth of the full region and the reason that you're stuck in that small part of Duscae is because your car is broken down and the only way to get it fixed is to earn enough money to get it repaired by Cindy.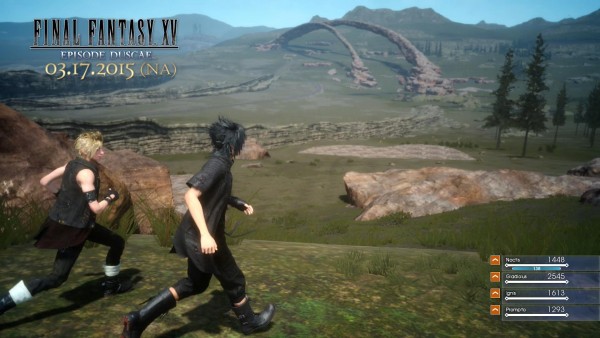 This means players will need to take on various quests, including slaying a Behemoth that players will have to track by its footprints, to pay off their repair bill. Also revealed was the fact that dangerous creatures will appear at night and if you choose to camp, which saves the game, you will be able to avoid them while also having Ignis prepare meals that will give the team some temporary buffs.
The key features of the demo, as described by Square Enix, can be found below:
A New Generation of Final Fantasy: The latest platform technology brings Duscae to life, rendering fast-paced action against breathtaking backdrops under a sky that changes in real time.
Open World Exploration: Guide Noctis and his entourage over the plains, through the woods, into the dungeons and around the outposts of Duscae as players roam freely about the expansive region.
Action-Packed Combat: Final Fantasy XV is the first Final Fantasy flagship title to give players direct control over combat in real-time, resulting in an exhilarating action RPG experience.
Summoning: Uncover the astral power that will enable Noctis to call larger-than-life vengeance down from the heavens.
Engaging Quests: Adventures great and small await in Duscae.
English and Japanese Voice-Over: Enjoy English or Japanese audio with English, French, German, Italian, Japanese or Spanish text.