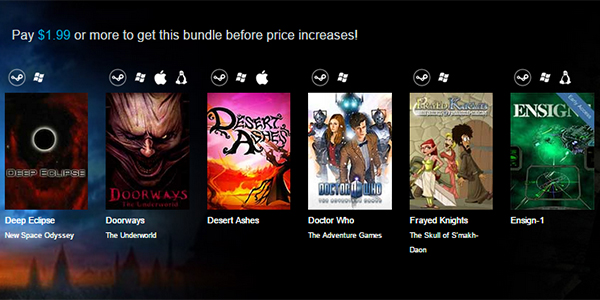 Indie Gala and Capsule Computers is kicking off December with the Indie Gala Every Monday Bundle #36. This week features 6 indie games.
Deep Eclipse: New Space Odyssey – A top down shooter with RPG elements, Deep Ecliplse features two skill trees, 30 perks, and 52 weapons.
Doorways: The Underworld – The third chapter in the Doorways horror series, players must track down an missing psychopath.
Desert Ashes – A turn based strategy game featuring a unique day/night system that creates challenging weather conditions to the strategic battles.
Doctor Who: The Adventure Games – The legendary British sci-fi series makes the hop to computers in an adventure featuring the Doctor's most famous foes.
Frayed Knights: The Skull of S'makh-Daon – A turn-based RPG inspired by classic dungeon crawlers, Frayed Knights will take players through 30+ hours of gameplay filled with humour and satire.
Ensign-1 – A space sim that mixes elements of FPS titles with ship boarding. The game is currently in Early Access.
For the first 24 hours of the sale, the bundle is only $1.99. Pick up your copy at Indie Gala before the price rises.