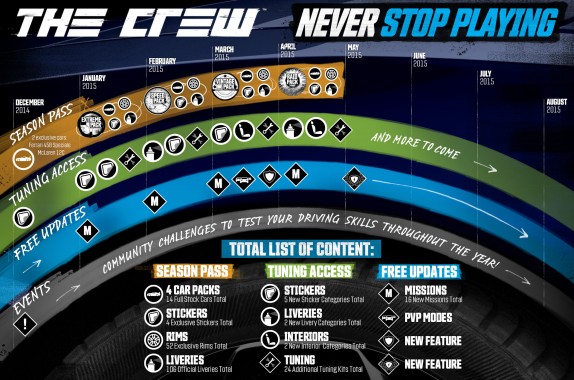 Well it wouldn't be a major release title without a Season Pass these days would it? Ubisoft's newest racer The Crew is the latest receiver of the Season Pass which is set to include four new car packs with corresponding missions as well as additional decals, rims, tuning parts and more. The info-graphic above (click to view it in full resolution) showcases the DLC plan for the next few months after the December 2nd launch promising even more content in the future. The Season Pass is set to contain:
Two exclusive cars – McLaren 12C and Ferrari 458 Speciale – available to Season Pass holders at launch.
One-week early access for all add-on car packs content.
Four packs, 12 cars total:

Extreme Car Pack- available January 2015, includes performance cars, perfect for exhilarating, high-octane missions
Speed Car Pack- available February 2015, includes sports cars, finely tuned for breakneck-speed races
Vintage Car Pack- available March 2015, includes vintage rides, fashionable for missions set in iconic American locales
Raid Car Pack- available April 2015, includes off-road vehicles, highly recommended for all-terrain missions

23 additional tuning kits unlocked to spec out the Season Pass car line-up for premium performance on any terrain.
All official paint jobs and rims for each car.
An exclusive sticker delivered with each car pack.

New missions corresponding with each pack's theme, available to all players free of charge.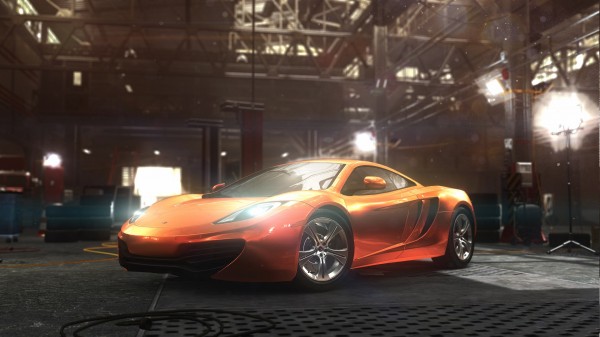 Not all the DLC content is paid for though with Ubisoft revealing that new missions, Player vs. Player modes and two new mystery features will be making their way to players via free updates alongside a host of community events. Those that do purchase the Season Pass will gain early access to two exclusive cars in the McLaren C12 and the Ferrari 458 Speciale. Our PR pack says these cars are 'available to Season Pass holders at launch' so take that as you will as to whether these cars will be made available to everyone at some point.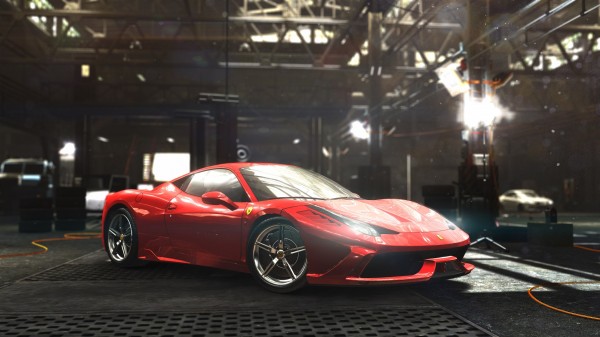 Will you be picking up The Crew and the Season Pass come launch date when it releases on PC, Xbox One, PS4 and Xbox 360? Let us know in the comments below your plans or any impressions you have from one of the games many betas, one of which is running right now on the next gen consoles until November 10th.