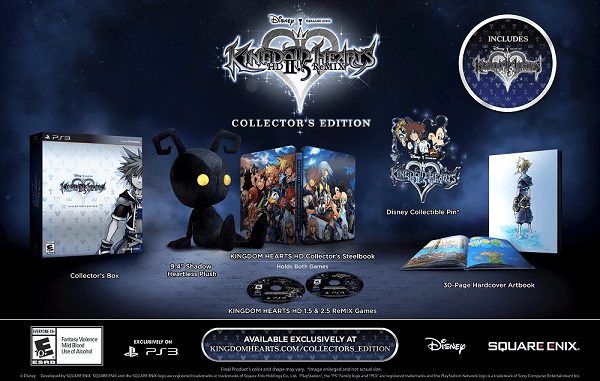 Today Square Enix has announced that they will be releasing a collector's edition of Kingdom Hearts HD 2.5 Remix when it is released next month. This collector's edition will cost $99.99 but come with a number of extras including the first HD remix. The collector's edition includes the following:
Kingdom Hearts HD 1.5 Remix and Kingdom Hearts HD 2.5 Remix Game Discs
Collector's Steelbook Case – The steelbook case contains both Kingdom Hearts HD 1.5 Remix and Kingdom Hearts HD 2.5 Remix discs and features premium artwork from the series Director, Tetsuya Nomura.
Collector's Edition Box
Shadow Heartless Plush Toy – 9.4 inch tall plush of the classic Kingdom Hearts foe.
Exclusive Official Disney Collectible Pin – Features Sora and Mickey Mouse back to back, with the iconic keyblade with Mickey dangler. Made out of a soft enamel coating on metal, this pin's height stretches out to 1.68 inches.
30-Page Art Book and Dust Jacket – This art book includes an exclusive foreword and a sketch from Nomura, along with art from the series.
It is worth noting that this version of the game is only available through the company's official website. You can check out a trailer that gives us a closer look at the contents below and keep an eye out for the game when it is released on December 2nd in North America and December 5th in Europe.