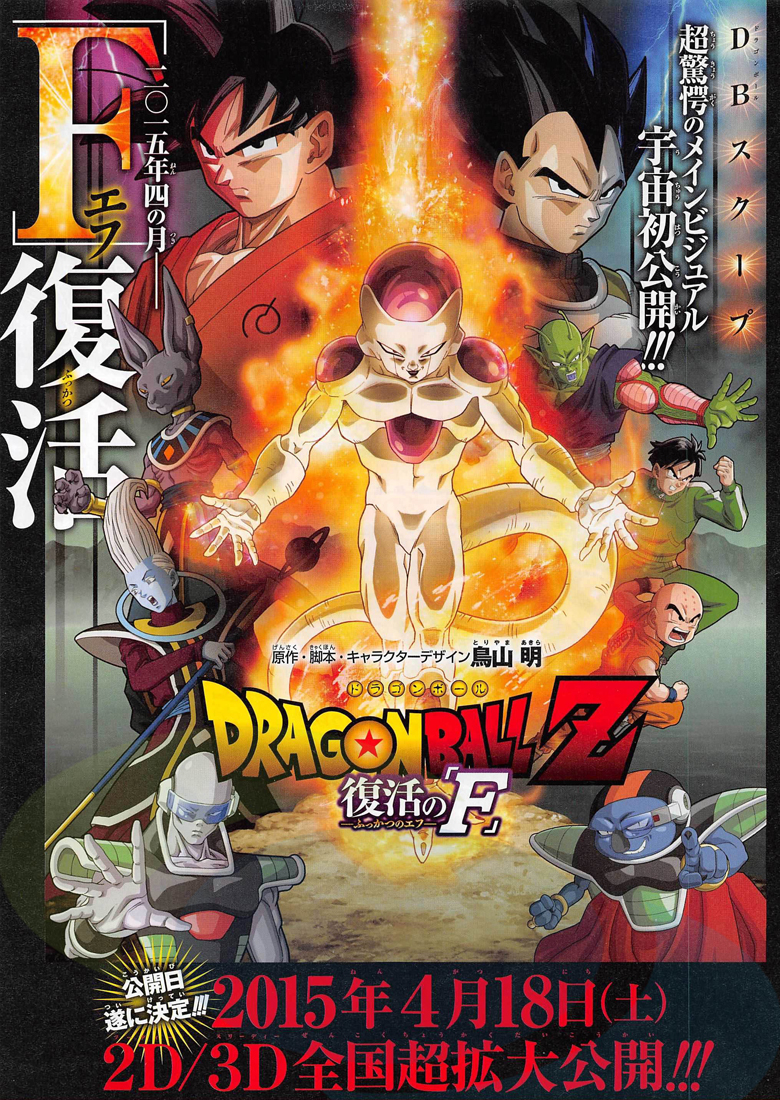 A while back we reported on the existence of a follow up film to last years Dragon Ball movie revival Battle of Gods. Now after many months we finally get some details on this new film as well as a poster and a few other images depicting some new characters. The film has the Japanese title of Dragon Ball Z: Revival of F and will be released just before Golden Week in Japan on Saturday April 18th, 2015. The film will be released nationwide in both 2D and 3D formats. Credit goes to Kanzenshuu for both images used in this article.
First up, Frieza is back! That's right one of the most recognizable villains of all time is back is back in the spotlight and he brings with him two henchmen named Sorbet (the short one) and Tagoma (the tall one). It is noted in the magazine scan that Tagoma is wearing an all new scouter with dual lenses. These two henchmen are remnants of Frieza's army and have headed to Earth to use the Dragonballs to revive their long deceased master, it is said they succeed in this mission. It will be interesting to see how Frieza and these new henchmen will be able to compete with the Z warriors, who have long since surpassed the power levels of the famous villain.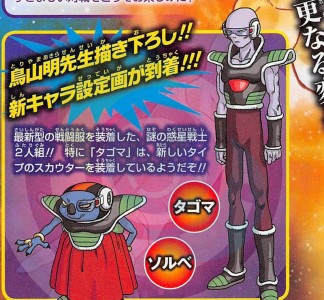 In the poster we see both Beerus and Whis will be making a return from the last film which also places this new movie after Battle of Gods in the timeline. Goku is wearing an entirely new outfit, something we haven't seen in a while and interestingly Krillin has shaved his head again after having hair in the last movie (this may just be an error on the poster just like how Super Saiyan Gohan was present on the Battle of Gods poster instead of being in his "Ultimate Gohan" form). Vegeta is just as prominent on the poster as Goku and Toriyama has in the past alluded to the fact Vegeta might play a more starring role in future films. Perhaps we will see a Super Saiyan God Vegeta in this new movie.
Are you excited to see Frieza back in the primary villain spot? Let us know in the comments below.