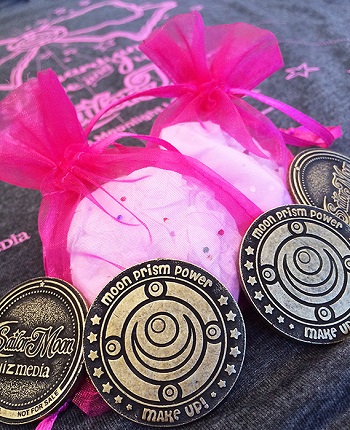 With the 2014 New York Comic-Con set for October 9th through the 12th, Viz Media has announced their plans for the event and these plans happen to contain quite a few events. On top of these events, Viz will also be at booth #1944 where they will be selling various products including pre-orders for some of their upcoming titles, including copies of Sailor Moon where those who pre-order during the event will be given a special coin that has long-since went unavailable. Other special merchandise which will be revealed later today.
The company will be welcoming manga artist Takeshi Obata as their guest of honor as he makes his first-ever U.S. event appearance. Those unfamiliar with the name will probably recognize some of the manga he has worked on in the past, as it includes Death Note, Bakuman., Hikaru no Go, and All You Need is Kill. Obata will be taking part in the Weekly Shonen Jump panel and will be appearing at several different events during Comic-Con.
Full details of all of the events and their time frame can be found below:
Thursday October 9th
3:15PM – 4:00PM         Panel: VIZ MEDIA PANEL (Room 1A14)
Join VIZ Media and pull back the curtain on favorite manga and anime series. Be among the first to hear about upcoming releases and new acquisitions and throw questions at staff and grab FREE manga prizes while supplies last!
6:00PM – 6:45PM         Panel: THE FUTURE OF WEEKLY SHONEN JUMP (Room 1A14)
Join the editors of VIZ Media's WEEKLY SHONEN JUMP and editors from Japan's Weekly Shonen Jump magazine to welcome Takeshi Obata for an enlightening personal discussion on what's new and what's next for the long-running manga anthology which launched best-selling titles such as NARUTO, BLEACH, ONE PIECE, DRAGON BALL as well as Obata's BAKUMAN。and DEATH NOTE series.
Friday October 10th
2:00PM – 2:45PM         Panel: VOLTRON: A 30TH ANNIVERSARY
CELEBRATION PRESENTED BY PERFECT SQUARE     (Room 1A21)
In 1984, Voltron: Defender of the Universe hit the TV, and the world of giant robots has never been the same. In honor of Voltron's 30th anniversary, join the staff of VIZ Media's Perfect Square imprint for a very special peek behind the curtain at this cultural phenomenon with special guests, new product announcements and much, much more!
5:00PM – 5:45PM         Panel: WEEKLY SHONEN JUMP PRESENTS
TAKESHI OBATA, MANGA ARTIST  (Room 1A21)
Join VIZ Media and the staff of WEEKLY SHONEN JUMP to welcome very special guest Takeshi Obata and his editor Koji Yoshida for a conversation about Obata's beginnings as an artist, his extensive history working in the manga industry, and the creative process behind his works. Don't miss this extraordinary opportunity!
Saturday October 11th
4:15PM – 5:00PM       Panel: OFFICIAL SAILOR MOON PANEL   (Room 1A14)
Come on a journey with the legendary Guardian of love and justice, Sailor Moon! Members of the VIZ Media SAILOR MOON animation team will talk about the impact of this beloved anime series, show footage from the re-mastered episodes and celebrate the long-awaited return of Usagi and her friends!
Scheduled Booth Activities:
VIZ Media Prize Wheel of Destiny: Take a spin for a chance to win a surprise goodie like t-shirts, posters, stickers and more! While supplies last.
DORAEMON Meet & Greet: Drop by for a photo op with everyone's favorite big blue cat-type robot from the future!
SAILOR MOON PHOTO SESSION: Meet Guardian Sailor Moon (official cosplayer) and bring your own camera/phone and take your own "Sailor Selfie"!
VOLTRON Mascot Appearance: Become a Defender of the Universe with an official photo.
VIZ Media /WEEKLY SHONEN JUMP Newsletter Sign-Up: Receive the latest digital news about your favorite anime and manga titles and get a free Takeshi Obata full-color poster!