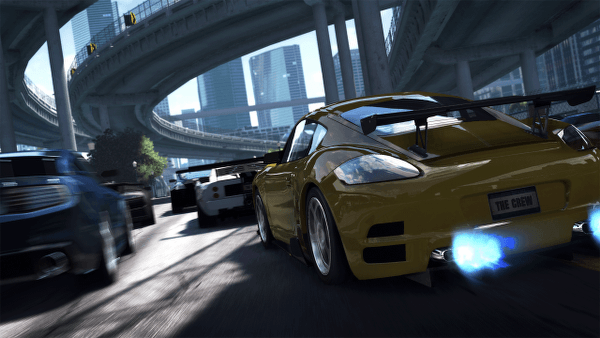 The Crew has a lot of competition within the driving genre and its time of release isn't helping the situation with Forza Horizon 2 just launched and Driveclub right around the corner. However with its huge open world, social aspects, story and customisation The Crew is the racer I am most looking forward to when it releases later this year. We catch up with Ivory Tower Managing Director and The Crew producer Ahmed Boukhelifa to get into his head to find out more details on the story, soundtrack and the impressive map found in the game among other topics. Check out the full interview below.
---
Hi Ahmed, thank you for being here with us today. So when I played the beta I was surprised to learn you had a story in the game. Not many racing games these days have a story and it wasn't advertised in any trailers that there would be a story in the game. I was happy to see this as I've always like story in my racers. Why did you decide to put a story in The Crew ?
Actually, The Crew is two main parts. There is the first part which is all the main progression that takes you throughout the world, throughout the whole country and take you about 30 – 50 hours while you get to level 50. This will introduce you to the gameplay, how tuning works etc. Then when you reach level 50 we are calling that the endgame, you will basically have mastered the world and have everything available to you and you will have to choose if you want to continue playing cooperatively with friends, PVP, keep on exploring the world whatever. For the first huge part, we wanted to have something to go along with the progression and keep players motivated beyond just 'I want to be stronger, I want to own more cars, I want to be richer.' That's why we felt bringing in this action story to help take you along was perfect.
Was their film influence from action and racing movies like Fast and Furious ?
Definitely.
One of the biggest criticisms I had with the game given the strong social, multiplayer aspect was that the visual customisation was a bit lacking. If you've played Midnight Club L.A. the visual customisation there basically allowed you to create anything with a strong layering system. Does your team feel you have done enough with the visual customisation as people obviously want to stand out from the crowd.
Yes I have played that game along time ago. We have colours for exteriors and interiors, rims, body parts, spoilers, stickers and other car body parts you can customise. It brings lots of variety for your car. I think the customisation for a player begins even before that. When you play The Crew you will create your own unique car and it begins with which car you want to play and which spec and that's where the customisation really starts.
Actually what we wanted to do, talking about variety, was give a fast route to accessing a large variety of very rich and detailed decals. So that's why we created a lot of them and made them progressively unlockable to the player. It is very important to me to make sure you are unique. Creating your own decal from scratch is not something we have today but is definitely in the back of our minds.
The map is obviously one of the biggest features of The Crew. What goes into making a map that big, do you guys go and look at the locations?
Today with the Internet you can get tons of guides and photos so that is the first step. Then what we really wanted to do was to try and tap into the essence of American car culture and create the America we wanted to create. So we sent our artists and designers and put them in small crews (we both had a bit of a laugh at this) and sent them over for a week or two in different places in the U.S. with local fixers to introduce us to local scene and local places. In Detroit for example we went to all the incredible decaying places which we try to reproduce to give the special feeling you are in that city and the same for all the other major locations in the game.
Did you guys have to obtain licenses for some venues such as the Staples Centre in L.A?
For the venues no. Of course there are legal constraints in regards to what we can do and can not do. But it is pretty open in terms of what you can reproduce.
How did you pick the soundtrack and what went into making that? Can you share how many songs are in the final game?
The soundtrack is one of the parts I love the most and was one of the most difficult things to create. It's all about taste and your taste in music so you have to try to not be sensitive about it and think about what tracks we want. The way we worked was to try and feel the vibe of the American cities we were going to reproduce and lets try and feel what would be the music that comes from those cities and create those radio stations. As for the amount of songs I don't remember the exact numbers but it's not far from 100. (I later did some more research and found the game will have 7 local radio stations and 120 songs in addition to an original score composed by Joseph Trapanese, known for his work on films such as Oblivion, The Raid: Redemption, The Raid 2 and TRON: Legacy, full list here)
What is the future for The Crew? Do you have any DLC planned or additional content coming?
For us the launch is just the beginning. We have huge content but we are already working on what will come next. You played the beta so you got a look at the skills and mission progression etc. In the first area you don't gain access to all the missions and all the skills and you don't get access to faction missions. Faction missions are endgame content that are unlocked after you reach level 10 which is when you can start getting into it. There are PvP missions and solo missions and these missions allow us to expand much, much more on everything The Crew has to offer. Progression missions last on average about 2 – 4 minutes, they are fast paced and you go straight to the next race.
With faction missions, as they are optional, we decided to make them longer. As you join the faction and want to help them win, by playing faction missions you will make your faction stronger and rise within the faction. Those missions we can do some pretty insane stuff, 30 person faction missions can last 45 minutes. We have some that will take 2 – 3 hours like going around all the U.S. There is definitely some cool and wicked stuff. This kind of content we are really looking forward to putting it onto the players. Looking at what people like, what they want, we can put that content into the game as well.
Alright, thank you very much Ahmed. Cheers.

Thank you.
---
We thank Ahmed and the Ubisoft team for giving us their time throughout the Expo. I played The Crew twice at the show and it was probably the most fun time I had there as I sat in the racing chair, headphones on fully immersed in the world of The Crew as I participated in a co-op mission with three other guys to take down a utility vehicle then raced against those same guys that had just helped me, coming in first place at the end of a close race. It was exhilarating and goes to show that the game will best be enjoyed when you are getting involved with other players. The Crew comes out on December 2nd for PS4, Xbox One and PC and you can check out my impressions from the Beta here. For all our other coverage of this years EB Games Expo including plenty of hands on impressions of upcoming games, please follow the link.