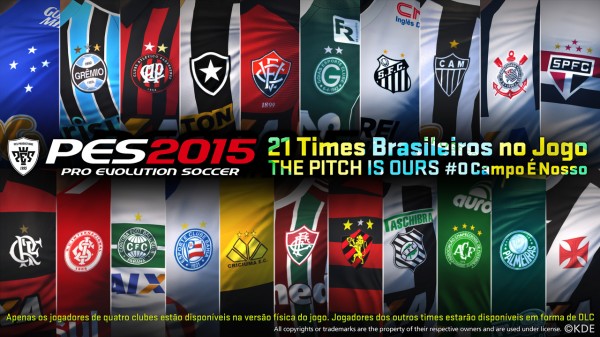 The Brazil Game Show (BGS) is currently underway in São Paolo, and Brazilian "Soccer" fans should be ecstatic at the news that, not only will Konami's Pro Evolution Soccer 2015 feature 21 Brazilian Teams, but local announcers Silvio Luiz and Mauro Beting have once again recorded commentary in Portuguese for inclusion in the final release, this November.
Luiz, a radio and television host and soccer referee, and Beting, also on the radio, a journalist and book author, have lent their voices to the franchise since 2011. Tomohiro Uesugi, President of Konami Digital Entertainment, Inc., commented;
PES captures the realism of soccer like no other video game on the market, and we continue to do this through signature elements like the legendary Brazilian commentary team for Portuguese PES players throughout the world. With our latest trailer, we're giving Brazilian console game players, and those throughout the rest of the world, another reason to celebrate the incredible experience.
Check out the announcement trailer below. Pro Evolution Soccer 2015 releases on November 13 for the PlayStation 4 and Xbox One (first time in the series' history), as well as the PlayStation 3, Xbox 360 and PC.