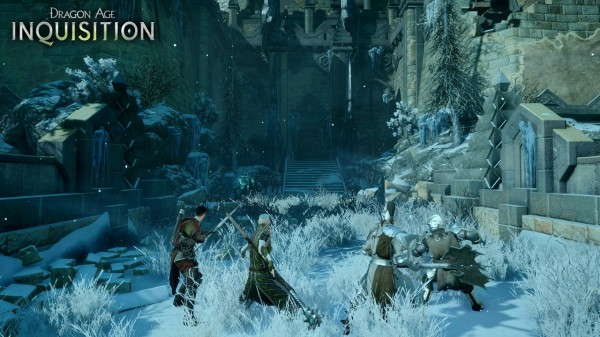 Have you ever wanted to tackle those dangerous dungeons with a friend? Well, turns out in Dragon Age: Inquisition, you'll be able to do just that! With up to three others! EA and BioWare just announced a four player co-op multiplayer mode for the highly anticipated RPG sequel.
The quests available are completely separate to the single-player campaign. Collecting loot, salvaging items, crafting new weapons and armour, and unlocking new characters along the way (up to twelve of them across the three classes – Legionnaire, Reaver and Mage), players will enjoy the standalone multiplayer-focused experience for what it is. Aaryn Flynn, General Manager, BioWare, said of the mode;
For Dragon Age: Inquisition, a special team of veteran developers from the Dragon Age and Mass Effect franchises created fun, fast-paced multiplayer gameplay that requires strategic teamwork on top of Inquisition's party-based combat and extensive loot and crafting system. It was early in the game's development that we realized how much fun fans of our series were having, with so many players teaming up in Mass Effect 3's multiplayer mode. We can't wait to give Dragon Age fans an even bigger and deeper experience.
Check out a bunch of fresh-off-the-presses multiplayer screenshots below. Dragon Age: Inquisition releases on November 20 in Australia and November 21 in New Zealand for the PlayStation 4, PlayStation 3, Xbox One, Xbox 360 and PC via Origin.