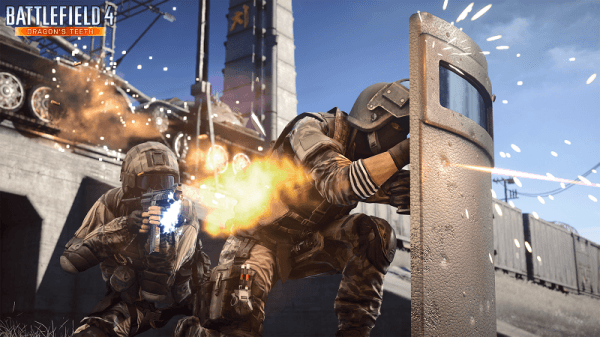 EA and DICE released a short teaser trailer today for Battlefield 4: Dragon's Teeth. The high octane video strings together several three to five second bursts of gameplay from the new Dragon's Teeth maps. The four new maps features locations across Asia.
Battlefield 4: Dragon's Teeth features four new maps, five new weapons, two new gadgets, eleven assignments, and the new Chain Link game mode. Chain Link is a new take on the classic Conquest gameplay, removing the ability to ninja flags points far behind enemy lines. Instead, players are forced to push out from captured points, focusing the combat in smaller areas.
Battlefield 4 Premium owners will get a two week headstart on Battlefield 4: Dragon's Teeth content. Dragon's Teeth will launch on July 15th for Premium members and July 29th for everyone else. Learn more at the official Dragon's Teeth mini-site.