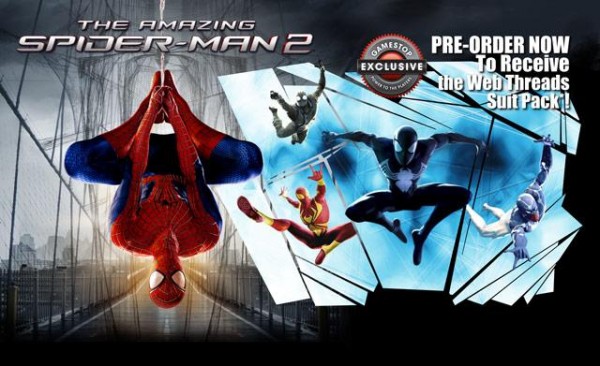 While not perfect, The Amazing Spider-Man 2 fit in as a nice addition to the hero's resume (read the review here), and those who missed out on snagging the once pre-order only "Web Theads Suit Pack" will be happy to know that they can download the DLC today of the Xbox Live Marketplace, PSN, and Steam (sorry Wii U owners, got the shaft this time).
This pack allows players to suit up in the following attire:
New! The dynamo-powered, energy-resistant Electro-Proof Suit
New! The heavily armored Ends of the Earth Suit, perfect for fending off up to six sinister villains at a time
The technological marvel of the Iron Spider Suit
The celestial, Big Bang-infused Cosmic Spider-Man Suit
The sleek, not-of-this-world Black Suit
The shadowy, alternate universe Spider-Man Noir Suit
Yes, I am not a fan personally of paying for something that should have been a nifty unlock – but hey, Spidey fans who want more life out of the game probably won't spend too long pondering as they can snag the DLC at $6.99 or $1.99 a suit. If Activision are listening however, I think its time to seal this type of content up as unlocks, to reward the player for simply buying the game.