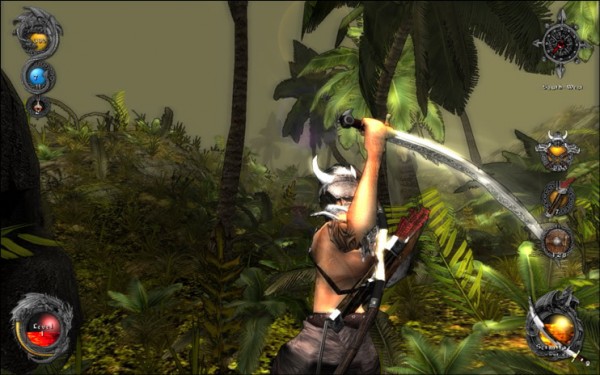 Square Enix's crowd funding project Collective updated its pitches for the week. Collective gives indie developers a chance to pitch their games to the general public. If enough positive support is raised, Square Enix will examine the project and the team to ensure that the developers can successfully complete the game. If Square Enix feels the team can do it, the developers will have access to mentoring and a crowdfunding partnership through IndieGoGo.
This week's pitches include:

Game: Halcyon 6: Starbase Commander
Developer: Massive Damage
Genre: Sci-fi Rogue-like
Location: CANADA
Days remaining: 15
Inspirations: FTL, Master of Orion, Star Control
"A rogue-like strategy RPG game where you hire a rag-tag crew and rebuild a derelict space station on the edge of known space."
---

Game: RUN
Developer: Torch Games
Genre: Action/Stealth
Location: BRAZIL
Days remaining: 1
"If everything you know, begins to fall apart. Would you stay and fight or would you RUN?"
---

Game: Battle of the Seas
Developer: DTM Games
Genre: Action RTS
Location: CYPRUS
Days remaining: 1
"Battle of the Seas is an online Action RTS Game with Ships and Captains, combining ship's skills and captain skills to over 1000 combos."
---

Game: Let's Take Over The Universe
Developer: 3itg
Genre: Action/Strategy RPG
Location: USA
Days Remaining: 29
"Want to help a Soldier in a pink chicken suit, a broken robot, a little man in a big ship and a very lost lady take over the universe?"
---
Game: KRUM
Developer: Haidme Studio
Genre: Action RPG
Location: Bulgaria
Days Remaining: 29
"An old school hack'n'slash action-RPG game. KRUM has medieval settings, fast-paced battles based on action-reaction AI and dangerous quests."
---
Square Enix Collective adds new pitches every Monday. Also be sure to check out the first pitch that has made it to crowdfunding stage, World War Machine.