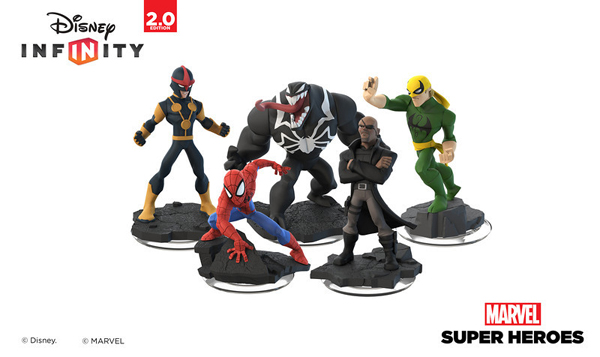 Spider-Man, Spider-Man, does whatever a spider can, and in Disney Infinity 2.0: Marvel Super Heroes that is just about anything. In the midst of all the E3 excitement going on this week, Disney have sneakily revealed a brand new Play Set for their upcoming game.
Based on the current Ultimate Spider-Man animated series, the Spider-Man play set features a slew of familiar cast and characters and a plot that involves Normal Osborn (AKA the Green Goblin) trying to clone the Venom Symbiote (and pretty much creating Carnage in the process). The play set includes everybody's favourite wall-crawler, Nick Fury, Nova, Iron Fist, and Venom. A few other characters make appearances in the recently revealed trailer, but aren't confirmed as playable characters such as; Green Goblin, Mysterio and Doctor Octopus. Wait, did I just say trailer? You better believe I did. Check out that bad boy below and let us know your thoughts on the web-head being confirmed for Disney Infinity as well as which other characters you would like to see make an appearance. After the initial Avengers reveal, and the additions of Merida and Maleficent we now know a total of 13 different characters that will be joining the Disney Infinity ranks this year. As we get closer and closer to the Disney Infinity 2.0 release date, make sure you stay tuned to Capsule Computers for all the hottest Disney news as it becomes available.