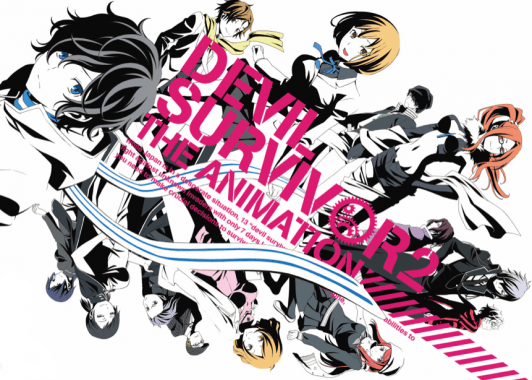 Despite the series being picked up by Australian anime distributor Hanabee not too long ago, it is only now that Sentai Filmworks have released the full dub cast for the "Devil Survivor 2" anime series which made it's debut on Japanese TV in April of last year. The series – based on the ATLUS video game of the same name – centers around a young boy named Hibiki Kuze who is thrown into a life of danger.
After an accident involving him, his best friend and a run-away locomotive, Hibiki finds himself stuck between a rock and a hard place as he learns the truth of this world and discovers the darkness that lurks just beneath the surface. Like any "Shin Megami Tensei" storyline, "Devil Survivor 2" deals with demons and the occult in the setting of modern day Japan.
With plenty of flair, great characters and a storyline that is by far as epic as they come, the "Devil Survivor 2″anime was only missing one thing…an English dub, but now that's all changed thanks to Sentai Filmworks. A North American home video release of the series is set to be made available on the 1st of July with an Australian release to come sometime this year.
English Dub Cast:

Patrick Poole – Hibiki Kuze
Greg Ayres – Daichi Shijima
Jessica Boone – Io Nitta
John Gremillion – Yamato Hotsuin
Amy Morris – Makoto Sako
Luci Christian – Tycho (Female)
John Swasey – Tycho (Male)
George Manley – Byakko
Jason Douglas – Ronaldo Kuriki
Joanne Bonasso – Hinako Kujou
George Manley – Director
Rob Mungle – Berzerker
Connor Leach – Botis
Shelley Calene-Black – Fumi Kanno
Ty Mahany – Jungo Torri
Cynthia Martinez – Airi Ban
Molly Searcy – Otome Yanagiya
Meaghan Avocato – Young Yamato
Mark X. Laskowski – Yuzuru Akie