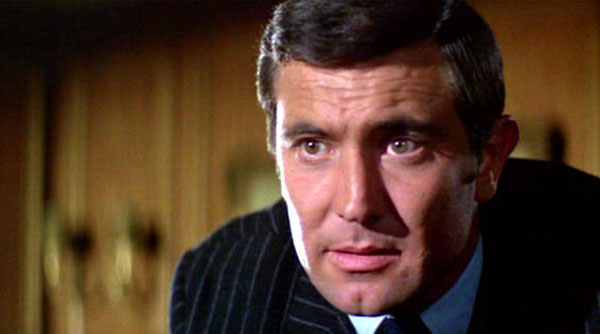 Iconic seems to be a word I personally am throwing around a lot in writing these panel reports, but it is apt, especially in this case. Richard Kiel's Jaws is one of, if not, the most iconic villains in 007 history, and George Lazenby is iconic in his own right for being the sole Australian James Bond and starring in what has been considered the most controversial and divisive entry in the franchise's long history – On Her Majesty's Secret Service. Bring these two men together, and you've got a truly momentous occasion.
The Q&A Session at Supanova Sydney 2014 was slightly awkward due to the absence of any ramps, forcing the wheelchair bound Kiel to sit in front of the stage while Lazenby sat comfortably on the stage's red couch behind him. It's sad to see Kiel's current physical state, but his mind is as sharp as ever. Our host asked Lazenby if he'd like to come down and sit on the edge of the stage next to Kiel, to which he joked "I don't jump that far! I used to do my own stunts…" To start, the duo were asked how their appearances in the series impacted their career and lives. Kiel appreciated the opportunities that were opened up for him to travel to, and make films in, countries like Taiwan, Hong Kong and Yugoslavia. Lazenby gave a long answer, expanding on just what happened with his agent and the advice he got to ditch the role for a sequel;
I remember seeing Dr. No in Monaco in 1962, and I think I had 80% chance with this girl going in, and 20% coming out! I thought "huh, I'd like to be that guy!" When it came up, I had never met an actor before. So it was a surprise coming out of Bond; I was talked out of doing another one – "that's Sean Connery's gig". Easy Rider was the big movie at the time, so I listened to Ronan O'Reilly' he said "you know, there's a guy named Clint Eastwood, he just made a spaghetti western in Italy and didn't even have to speak and made 500 grand. You can do those kinds of things." They offered me a million bucks to do another Bond film. So I said "what about that?" and he said "you can make that in two movies in Italy." So I listened to him and found out that I couldn't work anywhere else because they thought I was still under contract with the Bond people!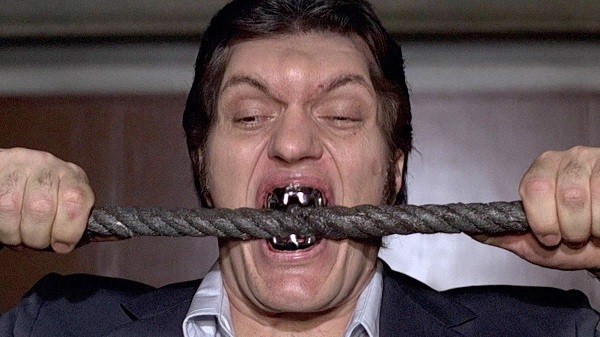 Lazenby continued, detailing his meeting with Bruce Lee;
So, I went sailing for about two years. And came back and went to see Bruce Lee, because he was kinda anti-establishment. He gave me some money – I was totally broke – to come and do a movie with him. There was about eight of us at the table, and there was a typhoon going on – the biggest one ever in Hong Kong – and we were watching corrugated iron flying around from inside this restaurant, meanwhile he said "if I had to fight you, how long would it take for me to beat you?" I didn't know how to answer! He said "I'd take a second to beat Raymond [producer Raymond Chow]. I'd take a minute to beat my wife, she's a blackbelt." And he went on around the table. "So how long would it take me?" he said. So I replied "well, I guess as long as it took to catch me." He said "I like that answer. Give George $10,000, we're gonna do a movie together" and Raymond said "what movie?!" – "We'll work it out." So he took me to the bank, cashed the cheque and I was on the road again.
On why Lazenby got the role of James Bond in the first place, he said; "Well it was already established by that other guy. The other fella, Sean Connery. It was a tough act to follow, but I had nothing else to follow anyway. So they changed my accent, changed my walk…they tested 300 guys on film – it was the biggest film test in history – but why did I get it? It's like winning the lottery, I don't know." Next, Kiel – who was known for playing similarly physical and intimidating roles – spoke about the original concept of Jaws and why he became so successful;
It was a surprise that the character became so popular. I remember when Cubby [Albert R. "Cubby" Broccoli], the producer, was telling me about Jaws, it was a little bit of a put-off. He said "he'll have teeth, maybe like tools, or like pliers…or maybe like a shark! But they'll be made out of steel and he kills people with his teeth." And I went "oh my God, that's a monster part." And I was trying to break away from that. So I took a little chance and said "well, Mr. Broccoli, whoever you cast in this role, I think you really need an actor. I think somebody who kills people with his teeth can become over-the-top very quickly. And if I were to play that role, I'd want to give him some human characteristics like perseverance, frustration, vulnerability and make him a little more rounded, fun character" and he said "I like that. What are you doing for dinner tonight?" […] And that's how I got the role.

A young fan asked Kiel what it was like wearing the prosthetic teeth as Jaws, to which he replied that it was mostly nauseating because of its chromium steel taste, with the plate pushing up into the roof of his mouth. "People ask, "did it affect your acting?" and it did, it made me very stoic. I was trying not to throw up!" When asked how his time on TV series Legit was, Lazenby said he almost already forgot that he did it, being only in two episodes. He stated; "I've been through 20 years of acting classes, and now that I can act, nobody wants me!" For those who wonder if Lazenby ever had another shot at reprising his role as Bond, he apparently did;

I was called back in again to talk to the producers after Connery left again, and I looked like a hippie with long hair after sailing for those two years. And the director said "take a look at him, he can't play James Bond!". So they didn't make an offer. And I might've done it, because I was having trouble finding a job and making money. I actually went home to live with my mother, with this girl I had on the boat, who told me she couldn't get pregnant; we had a little kid and she was already pregnant again! That's when the Benson & Hedges cigarette thing came along. I was fortunate I was skiing down Mt. Kosciusko with a guy who took me up there, paid for my skis and everything…and I ran over to who I thought was this little girl, but it was a really short woman who was the wife of the guy that produced the Big Fry commercials I did in London. I went down to see him at the bar and he gave me a cheque for $500 not to do any promotions until I talked to the Benson & Hedges people. So I ended up sitting there, having lunch with them and I didn't smoke at the time – I had given it up – and they were offering me cigarettes; I was getting dizzy! [Laughs]. I was expecting to get $5,000 and they said "now, don't say no – we're only doing this ad for Australia – but our offer is $50,000." I almost fell off my chair! That's how I got back on my feet again and went back to America to see if I could hit the big time.
Speaking on the recent films, Kiel intimated that Skyfall is his personal favourite, and that he almost felt sorry for the villain (played by Javier Bardem). The two actors then connected on a commemorative watch that they were both sent to celebrate their part in the James Bond franchise after its recent 50th anniversary. Lazenby quipped; "well I'm trying to sell mine!" Relating back to commercials, Kiel stated how he actually made 5 times as much money doing a single PepsiCo commercial than he did doing The Spy Who Loved Me.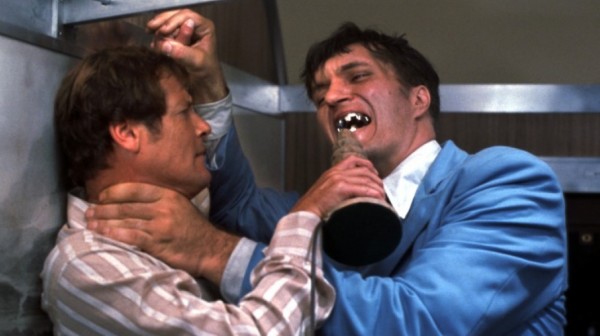 Jumping off of Kiel's statement about making more money from ads, Lazenby called the studio heads behind Bond "cheap bastards", to which the two shared their own experiences in pay negotiations on their respective James Bond appearances;
Well, you know the first film, I think Cubby felt like to be in a Bond film was a career maker, so you should do it very reasonably.And then when they had me come back to do the second one, my agent actually hung up on him because he felt the offer was really kind of ridiculous. And Cubby called back and said "you hung up on me! Why are you being so difficult?" and my agent said "Well, Mr. Broccoli, if I were representing you in a negotiation where I felt you deserved a whole lot more, I'd do the same thing for you." So finally Cubby came around. But at that point in time, that was one of the things that Sean Connery had a problem with; he wanted to be paid a million dollars. And they didn't want to pay him a million dollars! But when he did come back to do the one after George's, they paid him a million pounds! [Lazenby interjects to say it was two million pounds]. But Sean didn't receive the money; it was given to the Boys & Girls' Club. It was really wild. – Kiel

Yeah, they were tough. I remember I was getting $100 a week, per diem, which was good money in those days. And I was in their accounting office, Harry Saltzman [another producer] was in there too. Either it was $100 a week or a day, I forget, but I asked "how much is the other fellow getting?"…I always called him that, which is where the line came from.  And the accountant looked at Harry and said "tell him!". And he said "he's getting $1,000". So I gave Harry a dirty look and he said "okay, give him $1,000". – Lazenby

Well I remember I was getting $500 a week for The Spy Who Loved Me, and they were putting me up in an apartment near the American Embassy, and then when we went over to Sardinia, it was ridiculously expensive. And I said "guys, I don't want to invest in this movie, I just want to work in it! You're going to have to do something about this per diem if you want me to stay here in this hotel…I can't afford it!" So they doubled my per diem. I asked the director how much his room was, and it was one third the price of mine, because I had my wife and a baby boy and they were charging us per person, including the baby! So I asked for three rooms instead, and they said "what are you going to do with three rooms?!" and I said "it's cheaper!". […] I got the hotel to cut the bill in half, so we ended up doing okay. – Kiel
A young lady questioned what Roger Moore was like, being her favorite Bond. Of course, she said "no offense" to George, to which he replied in jest "you have bad taste". Kiel relayed how Roger's "heart is bigger than his ego, which is very unusual for a movie star." Kiel went on to compliment George as one of his own favorite Bonds, and the respect was clearly mutual. Speaking of On Her Majesty's Secret Service, Lazenby says that he was told after doing a take of the final scene in tears, that "James Bond doesn't cry" and to do one without so much emotion, which he didn't really agree with. His wife dies for God's sake! As for how he regards the film, Lazenby stated; "It was the best book, and as far as I'm concerned it was the best film. Not to toot my own horn because I'm not the best actor, but I honestly believe that."
For those who are aware, Lazenby has had his run-in with the police in the past. He was asked to recount a story he had once told involving gun ownership;
I was bored! I was down in Geneva and I went into a gunshop, and they had some beautiful pistols in there…like a Luger that was brand new. And I said "Can I have that?" and he said "No, you need a license." And the guy with me said "He's James Bond!". And I'm not kidding, the guy sold me two pistols! [Laughter]. So we were on set, and they took a long to time to change cameras around. So I got one of the crew to throws cans in the air and I was shooting these cans, and it was making everyone nervous. I don't know why! Another time, I got drunk and shot out all the lights in the lobby of the hotel, and the bullets knocked out the back window. So the cops came up and said "Give us the gun." They didn't know I had two, so I gave them one. And then I started shooting again, but they couldn't arrest me because then the Bond film would've stopped. I was going back to London for Christmas, and the two detectives got on my plane. I was in my seat and they said "These guys up front want to see you." I walked up the front, and they literally placed the pistols in my belt. I pulled closed my coat, said thank you, and went back to my seat. This is 1968 mind you. We got into London and they asked if I had anything to declare, and I said "Yeah, these!". And they asked "Are they loaded?" and I said "I don't know, I haven't looked in a while" and there was two bullets in there. I never got them back as you can't have guns in England.

An avid fan wondered if either had any hobbies that we might not be privy to. Kiel expressed how heavily he was into photography back in the day, owning an enlarger and all these other peripherals that we no longer need today in the digital age, while Lazenby's was Motocross, although he started at 41 and stopped at 57 due to slowing reflexes. But today, they both have in common the joys of children. For Kiel, his six grandchildren are his main focus, one of which is a wrestler, another a dancer. Lazenby has three kids of his own, whom he claims are getting old enough now to be able to beat his ass, so he never dares reprimand them.
A few hypotheticals later and the panel was over. Everyone in the room absolutely appreciated the effort made to come down and attend the expo, and it was a very interesting, eye-opening Q&A for both Bond and film fans in general. Rarely do you get a backstage look into the industry like we did that day. Hopefully you all got a kick out of reading the stories told by Kiel and Lazenby as well.