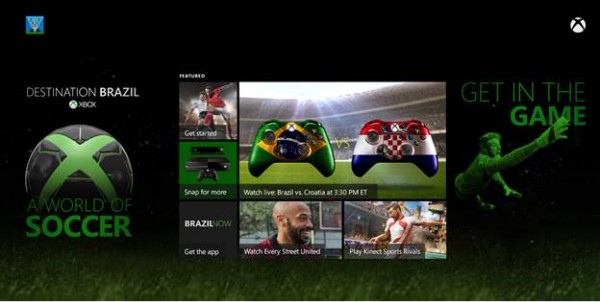 Football fans will be able to enjoy the festivities of the 2014 FIFA World Cup Brazil in an entirely new way with Destination Brazil on Xbox One. Within, they will find an app called Brazil Now, that snaps next to live TV to enhance the match-viewing experience; videos from YouTube channel Copa90; a new interactive reality show entitled 'Every Street United', starting June 15, and the ability to jump right into EA Sports FIFA 14 Ultimate Team: FIFA World Cup.
Brazil Now
Brazil Now allows you to keep tabs on your supported team/s, receive alerts, get score updates for all the matches, watch the live games with real-time stats, scores and a live social experience. It is truly the ultimate, personalized football companion. Here is an official list of its features:
Whatever you are doing on Xbox One this summer, Brazil Now gives you notifications of when matches are starting, goal alerts and score updates. You can use these notifications to jump directly into the app and get details about the match in progress, or watch the match live.
While you are watching live matches on Xbox One, you'll get real-time information updates, team and player stats, such as shots on goal, scorers, cards and possession, and action photos direct from the stadium to bring you closer to the action, all powered by Bing.
Be part of the Xbox crowd with interactive polls during the live matches. Who will win? Did the referee make the right call? By taking part in the pool, you will receive cards to collect and unlock the latest team photos. Collect all 96 cards to earn bragging rights and the top spot on your Friends Leaderboard.
Pick your team to personalize Brazil Now with at-a-glance info of all your team's upcoming matches, tweets, squad and group information.
Snap Brazil Now next to video games, movies, Skype, or live TV for all the latest news, scores, and stats from the games and teams you care about the most.
Xbox Live Gold memberships are not required to access and use the app, but fans will need connected TV hardware, broadband, and a subscription from an affiliated service provider. You can click here for more information.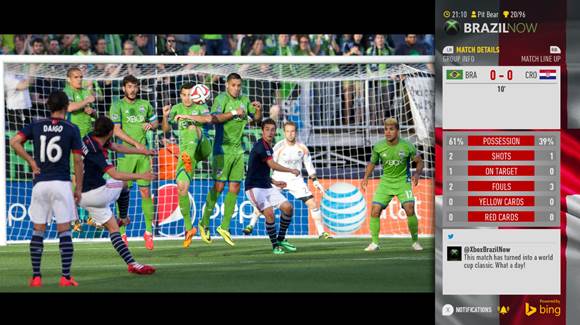 'Every Street United' and Copa90
An unscripted, original series following football legends Thierry Henry and Edgar Davids as they scout the globe for gifted, undiscovered street talents for a chance to compete in a 4v4 street game in Rio de Janeiro, 'Every Street United' premieres on Sunday, June 15, available to view through Xbox Video. A companion app will also be available for Xbox One and Xbox 360 that features interactive elements aimed at deepening the viewing experience, from bonus footage, polls, social interaction and even a hidden-object game. Again, an Xbox Live Gold membership is not required. For more information on 'Every Street United', click here.
A special partnership with Copa90 has also been established, resulting in the planned distribution of several series developed by the team on Xbox Video, at no extra charge for Xbox Live members. Made by fans, for fans, the premier channel is a haven for football fanatics on YouTube.
EA Sports FIFA 14 Ultimate Team: FIFA World Cup

EA Sports FIFA 14 Ultimate Team: FIFA World Cup is a free experience that can be launched directly from Destination Brazil. Bringing the FIFA World Cup Brazil to the popular game mode, EA Sports FIFA 14 Ultimate Team: FIFA World Cup features all 32 of the participating National Teams, their crests and kits, the official adidas Brazuca match ball and the Estadio do Marcana stadium, all wrapped up neatly in a fresh presentation. All the main mechanics and inclusions, such as Card Packs and squad chemistry, will be present, along with Online and Single Player tournament modes, where players can compete through the group stage and knockout phases in order to win the entire FIFA World Cup. Also, every FUT World Cup Pack includes a free Gold Pack available for use in the traditional FIFA 14 Ultimate Team mode. Naturally, Xbox Live Gold is required to play the online tournament mode. Visit easports.com/FIFA for more information.
Destination Brazil will launch on June 12, so if you plan on following the World Cup and are no stranger to media consumption via the Xbox family, you'll likely want to check it out. As an aside, you can download a free bracket poster to track all your favorite teams from MicrosoftStore.com/DestinationBrazil.