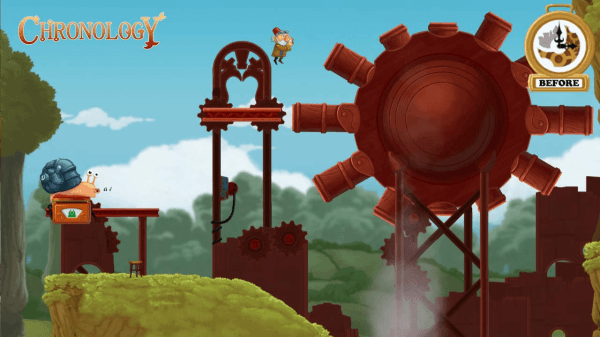 Indie studio osao games today announced that adventure/puzzle/platformer game Chronology will be available for Windows PC on May 12th through Steam. Set in a universe that nicely mixes pleasant fantasy and dim futuristic settings, players take control of the Inventor and his pet snail named Snail who has the ability to control time. Players will need to alter time in different ways to help them progress through puzzles and platforming sections and help stop all the unfortunate events that lead to the end of the world.
"As massive fans of Hayao Miyazaki, the world of Chronology has been deeply influenced by animated classics such as Howls Moving Castle and My Friend Totoro",  said Niels Højgaard Sørensen, Game Director at Osao Games, "We've taken these worlds and mixed them with video game classics – Day of the Tentacles and Lost Vikings, as players travel back and forth between ages to uncover an adventure of mixed dimensions".
Chronology was originally greenlit on Steam earlier this year but the studio destined to make the game unfortunately closed it's doors, leading to a few ex-developers forming osao games and finishing the project. Check out the trailer below for all the time bending platforming fun.