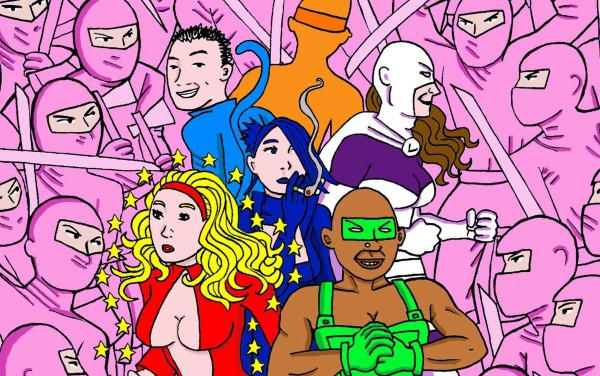 Spandex – The tale of an all-gay group of superheroes in their quest to thwart a 50-foot lesbian has made its way to your computer, tablet screens thanks to Titan Comics and ComiXology (That may be the most unique sentence I have ever written). Not only that, but they will also be releasing the first issue of The O Men through the online platform.
Spandex follows the lives of Diva, Glitter, Mr. Muscles, Butch, Prowler, Indigo and Liberty as they battle a 50-foot lesbian, Pink Ninjas and their own complicated love lives. While the O Men has the enigmatic "Doctor O" gathering a new superteam to fight his nemesis, Anathema. But can they stop Anathema before she takes her revenge on their friends and family – and finally, on themselves?
Both of these books are available now through ComiXology alongside the recently released Psycho Gran, so be sure to click here for Spandex, and here for The O Men. If the bizzare and out-there description hasn't quite sold you yet, then check out the gallery of interior pages below and let us know in the comments whether or not you will be picking these up. As always, be sure to stay tuned to Capsule Computers for all the Titan Comics news as it becomes available.