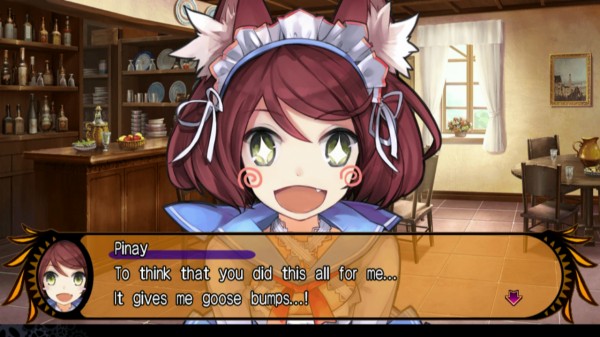 Today NIS America has released a new batch of screenshots for Demon Gaze and this time around they are focusing on introducing us to a few of the characters that we will be encountering and working with when the game is released on April 22nd in North America and April 25th in Europe.
In these screenshots we are introduced to the following characters, whose descriptions come from NIS America itself:
Lezerem Rantile – A frivolous elf who runs the item shop. He can't seem to keep himself out of trouble — or in his clothes once he's drunk.
Kukure – The self-proclaimed stylist at the inn. He looks like a child, but is actually a full grown Migmy. He's picky when it comes to the female body, especially the posterior.
Fran Pendoll – The beautiful, young manager of the Dragon Princess Inn who's somewhat of a tightwad, though she says she's it's because she's working on a mission.
Lancelorna Beowulf – She's got an Evil Eye, similar to the main character. After retiring as a mercenary for mysterious reasons, she now looks after the main character.
Prometh – A mysterious mortician girl who lives in the inn's basement. She loves herself some skulls!
Pinay – A Ney girl with boundless energy who lives at the Dragon Princess Inn. She also might have another side to her…