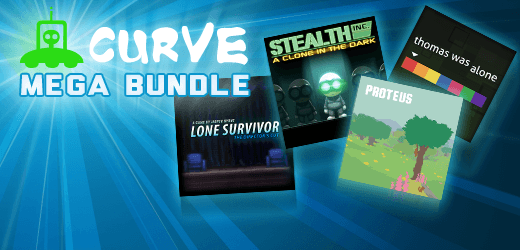 Curve Studios have announced a great bundle featuring four of their most critically praised titles of 2013. The Curve Mega Bundle includes Proteus, Stealth Inc, Thomas Was Alone and Lone Survivor: Director's Cut, and is available now on the PSN store. Each game is a Cross-Buy release, which means you're able to play them on both the PlayStation 3 and the PS Vita with a single purchase, and some are also Cross-Save enabled.
The bundle will have the following discounted price for the first two weeks:
AU: $21.95/$17.56 PS Plus (

Buy Here

)
US: $14.99/$13.49 PS Plus
EU: €14.99/€12.99 PS Plus
UK: £11.99/£9.99 PS Plus
As usual, Australia gets the short end of the stick when it comes to pricing. The bundle is otherwise approximately 70% off compared to purchasing the games individually, and is cheaper than buying Proteus on its own. After the initial fortnight, the bundle will drop to about a 30% saving all up. Curve Studios PR Manager, Rob Clarke, said;
This bundle has everything from exploring a peaceful, dreamlike world to getting your head exploded by lasers. It represents a nice little slice of the 'Indie Pie' for those who have yet to stuff their face full of its delicious goodness.
They're all quality indie releases, and we highly recommend checking out the bundle.