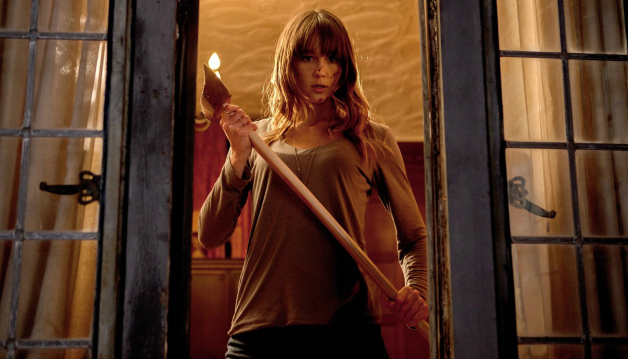 Icon Home Entertainment will scare, thrill and move you in the new year, with three major releases coming for DVD, Blu-ray and Digital formats on January 3. You're Next is a cult hit that took a couple years to really gain an unexpected surge in popularity that led to its penetrating many international markets – including Australia – earlier in 2013. Our review can be read here.

One of the most terrifying films in years, You're Next puts a fresh twist on home-invasion horror. When a gang of masked, axe-wielding murderers descend upon the Davison family reunion, the hapless victims seem trapped…until a mysterious guest of the family (Sharni Vinson) proves to be the most talented killer of all. Its trailer can be viewed below.
In Paranoia, Adam Cassidy (Liam Hemsworth) is trying to get ahead at Wyatt Telecom. After one costly mistake, CEO Nicolas Wyatt (Gary Oldman) forces Adam to spy on a competitor, run by Wyatt's old mentor Jock Goddard (Harrison Ford). Wyatt will stop at nothing, even murder, to gain a multi-billion dollar advantage and it isn't long before Adam realises that he's nothing more than a pawn in his boss' dangerous game. Check out the trailer for this high stakes thriller below.
In 1991 Jeff Buckley (Penn Badgley), an unknown twenty-four year old L.A musician, is invited to participate in a tribute concert in New York City for his late father, Tim Buckley, the iconic folk rock star, whom Jeff never knew. Jeff grapples with his own self-doubts and the legacy of his famous father and, with the loving help of an enigmatic young woman working at the concert (Imogen Poots), he finds the courage to perform at the legendary St. Ann's concert. Greetings from Tim Buckley poignantly explores the interweaving paths of a father and son who were among the most beloved singer-songwriters of their generations. The film will only become available on DVD and Digital come January 3. Its trailer can be viewed below.