 The newest and feature packed version of the popular indie title Trine 2 is coming to the PlayStation 4. Trine 2: Complete Story aims to release alongside Sony's new console when it launches but this may or may not happen depending on if development is completed in time. Developer FrozenByte has been hard at work porting the game over and it looks great as you can see from the screenshot and trailer below. The game will run in full 1080p HD with a stable 60 FPS and stereoscopic 3D.
For those who don't know of the Trine series, the game is a sidescrolling game of action, puzzles and platforming. You play as one of the Three Heroes who make their way through dangers untold in a fantastical fairytale world. The game features an exciting adventure full of action, including physics-based puzzles using fire, water, gravity and magic; wicked goblins as the heroes' adversaries; and a magical environment full of wonder.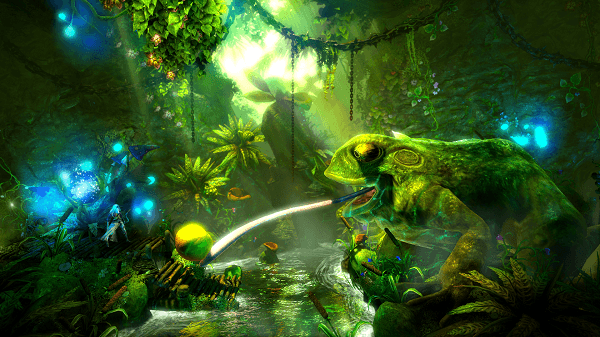 Game features of the PS4 version include:
Three heroes – the Wizard, the Thief and the Knight – in a story-driven adventure full of fantasy
Physics-based puzzles with fire, water, gravity and magic
Plenty of skills and abilities to solve puzzles in different play styles
Intuitive control system designed to take full advantage of the PS4 controller's touch surface
Online and local co-op with up to three players
Includes the expansion Trine 2: Goblin Menace
Includes the Dwarven Caverns level, unlocked by collecting secret map pieces
20 exciting levels in total, ranging from lush forests to a burning desert, to the insides of a giant sand worm
Beautiful graphics in Full HD 1080p, 60 fps
Stereoscopic 3D support
Trine 2: Complete Story will be available as a PSN download title at around a similar price to its Steam counterpart. Keep checking back with us as we find out more information about the release date as it becomes available.