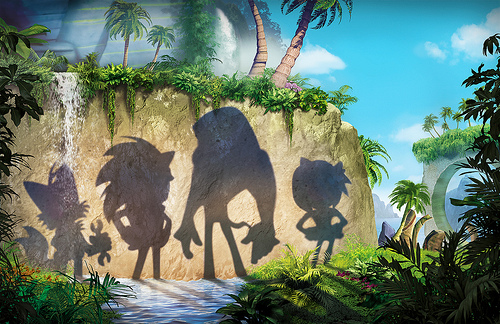 It seems like SEGA's little blue hedgehog just hasn't been able to stay out of the limelight for these past few weeks. With the impeding release of Sonic Lost World less than a fortnight away, and with the recent announcement regarding Sonic's appearance in Smash Bros WiiU/3DS, fans of the blue blur have plenty to look forward to game-wise. But in other news of a more TV oriented nature, SEGA made an official announcement on their official blog page yesterday that Sonic and friends have also been slated for a new Cartoon Network television series in 2014!
The working title of the series is called "Sonic Boom", and is planned to be a large 52 episode series of shorts, running at eleven minutes each. This short-cut story formula is a pretty familiar one to Cartoon Network, airing shows like Teen Titans Go! in a similar capacity. Aside from the blog post detailing the aims and aspirations for the Sonic Boom series, the SEGA post was also accompanied by the screenshot above, showing four very clear silhouettes, easily recognisable to members of the Sonic fanbase.
Or are they? Sonic's and Tails' designs look pretty standard, but Amy Rose and Knuckles have undergone a serious re-design, with the former appearing a bit more… shapely than her video game counter-part, and the latter looking like he's really been working out. With Sonic TV series in the past meeting with relatively strong success, one can only hope that this series is also one to put under Sonic's "HITS" as opposed to "MISSES".
You can check out the official announcement for more details at the SEGA blog page HERE.