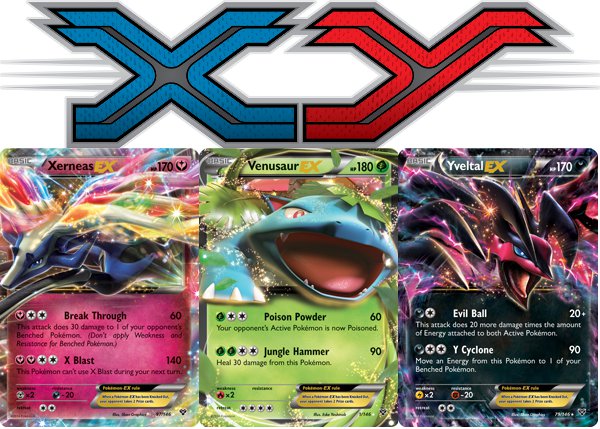 After the successful release of Pokemon X and Y (Review X and Review Y) and the inclusion of Mega Evolutions it looks like those Mega Evolutions are ready to make the transition to the Pokemon Trading Card Game. Starting in February 2014, new 10-card booster packs will be available for the trading card game.
While the XY expansion will have the Kalos Starter Set releasing in November, which will include Fairy-type Pokemon, the first in the trading card game with resistance to Darkness-type, the Pokemon Trading Card Game: XY expansion will also include new Pokemon-EX cards, specific versions of cards that allow for the Mega Evolution. But, trading card players will have to carefully consider when they will try to activate the Mega Evolution, as it immediately ends their turn, with no chance to attack until it is their turn again.
So, with all the big changes that came with the Pokemon X and Y Nintendo 3DS video game, the trading card game will be catching up in February 2014. Those looking to be Master Trainers of the Pokemon TCG should start planning on how to build their decks.