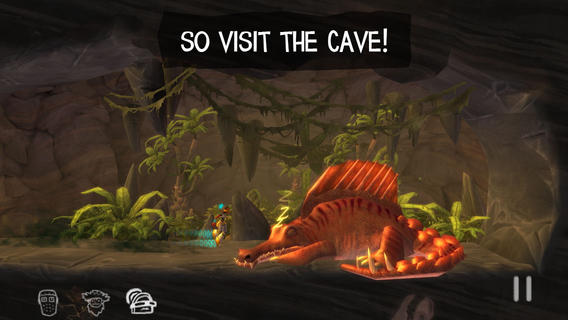 Welcome back for this week's iOS Game Suggestions. If you missed last week's, or are new to the suggestions, click on the link below and check out what cool games you should be picking up for your iOS device along with the introduction on how the suggestions work. (suggestions 1 has how it all works)
MasterAbbott's iOS Game Suggestions
A great week on iTunes! As always, it started slow and but ended with a bang! There are many must-buy games this week in all departments, FREE, 99c and over 99c. This week I've suggested a total of 20 great quality titles. Make sure you check them all especially… The Cave, Lost Echo, Nascar: Redline, Dead Man's Draw, NBA 2K14, Level 22, Gunner Z, Hills Of Glory, Pocket Mine  just to name a few.
Break down below :
8 – FREE Games
2 – $0.99c Games
10 – Over $0.99c Games
We also have game play video for Level 22 at the end of the article
As always for this week's suggestions are all new titles that you should take a look at and consider spending your hard earned iTunes cash / time on.  Well the Free games just below certainly should all be given a shot as they won't cost you anything!
For The Cheapskates – FREE GAMES
 

MASTERABBOTT'S FREE GAME PICK OF THE WEEK!

Gunner Z – Price : FREE – Publisher – BitMonster (Take your fleet of customized "AC-HMV" armored assault trucks into a city overrun by an undead army! However, the enemies aren't merely mindless zombies; a powerful enemy military is using the engineered threat as a tool. Run by General Thacter, this twisted army utilizes undead soldiers and huge biological beasts as weapons alongside remotely operated mechanized units such as aerial drones, tracked RPG turrets, APCs, tanks, and more. The only force capable of stopping the undead army is YOU!) on iPad & iPhone. GET IT NOW FOR FREE

 
Hills Of Glory 3D – Price : FREE – Publisher –

Chillingo

 (It's time to save Europe and make history! Land in Italy and fight your way to Germany to put an end to the War. With stunning 3D visuals, multi-touch control tactics, and hilarious nods to war movies, this is one war game you won't want to miss!

) runs on iPad & iPhone.

GET IT NOW FOR FREE

 
Pocket Mine – Price : FREE – Publisher –

Roofdog Games

 (The new game from the makers of Extreme Road Trip! It's mine o'clock, time to dig! Tap the blocks to delve deeper and deeper in your Pocket Mine. Find treasure chests, rare artifacts and trigger explosive chain reactions! Build your deck of booster cards to reach your maximum digging potential and reach the top of the leaderboards! Trade with your friends to complete museum collections and get sweet rewards!

) runs on iPad & iPhone.

GET IT NOW FOR FREE

Brightstone Mysteries: Paranormal Hotel HD – Price : FREE – Publisher –

G5 Entertainment

 (Unravel the secrets of the Templars and an ancient Egyptian cult in this thrilling adventure! New York City Detective Bridget "Biggi" Brightstone has come to France to crack the case of a missing necklace in a haunted castle-turned-hotel. But her investigation is about to turn up much more than she bargained for! When the victim of the robbery suddenly dies, she must track the killer using clues left by ghosts.

) runs on iPad.

GET IT NOW FOR FREE

 
Samurai Siege – Price : FREE – Publisher –

Space Ape Games

 (Lead an army of Samurai, Ninjas, and fantastic monsters of the East to glory! Build your village into a mighty stronghold! Raise powerful armies! Fight against other players! Please note that Samurai Siege is free to play. Some in-game items can be purchased with real money. You can turn off the payment feature by disabling in-app purchases in your device's settings.

) runs on iPad & iPhone.

GET IT NOW FOR FREE

 

Edge Of The World – Price : FREE – Publisher – Central Core Studios (Take turns launching your ships to the Edge of the World! Challenge your friends to a local or online game, and see who can score the most points and win! And best of all, it's free!) on iPad & iPhone. GET IT NOW FOR FREE

 
Grumpy Virtual Pet – Price : FREE – Publisher –

Koyoki Limited

 (Grumpies are mischievous creatures who love raiding each other's homes in search of treats.
This has become an international sport and every well trained Grumpy dreams of topping the global leaderboard with their mischievous skills.

) runs on iPad & iPhone.

GET IT NOW FOR FREE

 

Battlepillars – Price : FREE – Publisher – Hitcents (Those aren't butterflies in your stomach! You're feeling the urge to command battle ready caterpillars on a mission to take a bite out of the red caterpillar army!) on iPhone & iPad. GET IT NOW FOR FREE
For The Bargain Hunters – 99c Games
| | |
| --- | --- |
|   | Space Qube – Price : $0.99 – Publisher – Playground Publishing (The universe is infested with dangerous monsters threatening all life! Build your personal spaceship and join Space Jack's quest in saving the universe. Blast your way through endless levels of Alien mayhem. Can you beat them all to become the best of the best and score some rewards while at it? Find out now! ) runs on iPhone & iPad. BUY NOW |
|   | Happy Hills 2: Bombs Away – Price : $0.99 – Publisher – Thumbstar Games (Free the Happy Hills in challenging physics puzzles and defeat the cheeky blocks that occupy them and their homeland! Once again the home of the Happy Hills faces imminent danger! Mount Majestic, the kind and gentle guardian of Euphoria, starts rumbling, bloating and belching out smoke – it seems a dark force is building up deep inside him. Then, after a sudden and tremendous explosion, he bursts out hundreds of vicious blocks, falling down and pressing down the poor, no longer happy hills. ) runs on iPad & iPhone. BUY NOW |
For The Millionaires – All games over $0.99
 

MasterAbbott's over 99c Pick Of The Week!

The Cave – Price : $5.49  – Publisher – SEGA (Descend into the mysterious depths of The Cave in this adventure game from Monkey Island creator Ron Gilbert and Double Fine Productions.  Assemble a team of unlikely adventurers – each with their own unique personalities and stories– and descend into the heart of a sprawling, sentient cave in order to find that which is most important to each of them. The Cave has had millennia to spruce up the place so prepare to dive deep and solve the puzzles hidden within exotic locations including a subterranean amusement park, medieval castle, and fully armed nuclear research facility. The Cave is waiting. ) runs on iPhone & iPad. BUY NOW

 

Lost Echo – Price : $2.99  – Publisher – Kickback (In the near future Greg's girlfriend Chloe mysteriously disappears in front of him. He starts a desperate search for her. What happened? Why does no-one else remember her?  In this indie adventure game you explore fully 3d environments using an intuitive point and click interface. Solve puzzles, explore, play minigames, interact with numerous characters and find out what really happened!) runs on iPhone & iPad. BUY NOW

Dead Man's Draw – Price : $1.99 – Publisher –

Stardock

 (The ULTIMATE game of risk & reward, where a single card can pile up gold or lose everything! Draw cards, win gold, and unlock exciting new adventures in this addictively fun game of chance and skill. Join Scurvy Pete, Black Bonnie, and the dashing Sir Lovesword in a quest for pirate booty.

) runs on iPad.

BUY NOW

 
One Piece: Running Chopper – Price : $1.99 – Publisher –

Namco Bandai

 (Now fans of the Anime and Manga hit, One Piece, can get in on this endless running action with the new game by Namco Bandai called "One Piece: Running Chopper and the Island of Bonds", yes it's true but did you expect any different from One Piece? We live in an age where One Piece is in almost every for of media so why not smartphone games too?) runs iPad & iPhone. (NOTE THIS GAME IS IN JAPANESE)  BUY NOW
 

Chickens Can't Fly – Price : $1.99  – Publisher – Amused Sloth (Plunge towards the depths of a chicken-powered science facility! Chickens Can't Fly is here to give you endless free-falling excitement in a wacky world.) runs on iPhone & iPad. BUY NOW

 

Totems: Game Of Conquest – Price : $1.99  – Publisher – Timecode. (Totems is a new board game featuring: maps, topology and of course strategy! If you enjoy Risk, Carcassonne, Go, Stratego, or even Uno or Solitaire, you will love the "easy-to-learn, hard-to-master" fun of this game.) runs on iPhone & iPad. BUY NOW

 

Apple Dash HD – Price : $2.99  – Publisher – Strange Flavour. (Evil Corp's gloopers have captured all the bees and it's up to Dash to save them! Enjoy some good old fashioned platforming fun, brought to you by the team of vintage game programmers at Pixel Pyro. With glorious hand drawn high resolution retina artwork and ridiculously easy to learn controls. Play your way through 100 different levels set across 4 worlds and collect all Dash's strange hats. See if you can unlock the hidden moon boots and leap around like an astronaut. As tested by NASA (no, really, we actually had someone at NASA testing Apple Dash!).) runs on iPhone & iPad. BUY NOW

 
NBA 2K14 – Price : $8.49 – Publisher –

2K Sports

 (NBA 2K14 is the latest installment of the world's biggest and best NBA video game franchise. With more than 38 Sports Game of the Year and "Best Of" mentions last year on console, 2K14 is set to rule the virtual hardwood on iOS. This year, we've joined forces with the league's most dominant force: LeBron James. NBA 2K14 will raise the bar, yet again.

) runs on iPhone & iPad.

BUY NOW

 
Level 22 – Price : $4.49 – Publisher –

Noego

 (Are you late for work? Start panicking! Gary is an office worker who oversleeps after a drunken night out on the town. Here's where it gets tricky, because this isn't the first time Gary's been late for work, and he could be fired if he's spotted arriving at his desk after everyone else yet again. So he'll have to prove he's smart and sneaky enough to make his way up all the 22 floors between him and his office without being seen. ) runs iPad & iPhone. BUY NOW
 
Nascar: Redline – Price : $5.49 – Publisher –

Eutechnyx Limited

 (NASCAR®: Redline™ is a unique strategy game that lets you live the life of an up-and-coming NASCAR star for the first time on iOS. Start out as a rookie in the NASCAR Sprint Cup Series and work your way to the top by training your team, upgrading your car and making the right moves during the race at critical moments.) runs iPad & iPhone. BUY NOW
There you have it folks these games should keep you busy for quite some time well until next week at least. I'll be back next week for another dose of iOS goodness, in the meantime if you would also like to suggest your own suggestions, please feel free to share them in the comments section below or in the iOS forum section on the site here.
Remember kids, Play Hard Or Don't Play At All!
Level 22 Game Play Video