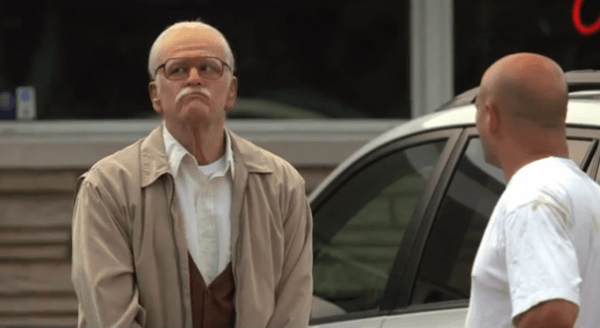 Paramount Pictures have just released the Redband trailer for their upcoming shock-comedy Jackass Presents: Bad Grandpa, starring Johnny Knoxville reprising his role as popular Jackass character, 86-year old Irving Zisman. It is embedded at the bottom of this article.
We've been introduced to the irresponsible grandfather's adjustable bed (not going to go there) and convenience mart spree (Jackass and shopping carts are a terrible combination!), but if these real people – innocent bystanders! – think that's as shocking or as disruptive as the retiree can be, they should be thankful they weren't present the day he got his "member" caught in a vending machine. I'm not even going to wonder how that happened in the first place. Take a look at the real reactions to the many unreal, R-rated (mostly for the swearing…mostly) situations like this below.
Jackass Presents: Bad Grandpa releases nationwide on November 14.