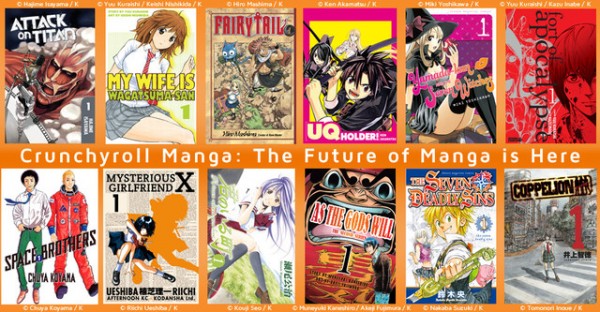 Crunchyroll have just made a major announcement regarding the future of their service. For years now, they have been known as the premier location for legal anime streaming, now they plan to take a major step forward for manga with the introduction of 'Crunchyroll Manga'.
The new 'Crunchyroll Manga' service will provide users of the site with legal manga reading, starting from October 30th, 2013. Kodansha Comics have announced their support of the service and will be providing Crunchyroll with 12 manga titles at launch, with a projected 50 titles added by Summer 2014. The following series will be available at launch:
Space Brothers

UQ Holder!

Mysterious Girlfriend X

A Town Where You Live

Yamada-kun and the Seven Witches

As the Gods Will – Second Series

My Wife is Wagatsuma-san

Fort of Apocalypse

COPPELION

The Seven Deadly Sins
It is certainly an impressive line-up for the service. Crunchyroll Manga will be available on multiple platforms, including computers, iOS devices and Android devices. The service will be availble to free users with ads and for Crunchyroll All-Access members without adds for a minimal fee.
Perhaps the biggest bit of news is that this service will be available in over 170 countries world-wide. Crunchyroll has yet to confirm all of the countries, but it is pretty likely that your country will be included given the immense number of regions it is available in.
Crunchyroll Manga launches on October 30th, 2013. Stay tuned for further updates on the service as it comes to light.