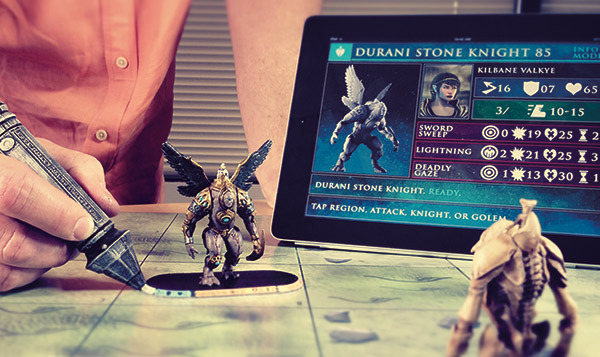 After the success of Shadowrun Returns, Harebrained Schemes is returning to Kickstarter to raise enough funds for their next project. Golem Arcana is a miniatures game that works with smartphones, tablets and computers to help simplify miniatures gaming with the help of a special Tabletop Digital Interface Stylus.
Often times, the hefty rules and record keeping can be a barrier for those interested in miniatures gaming. Harebrained Schemes designed the TDI Stylus and a tablet computer to helps keep track of scores, check for valid moves, save games and so forth. This will lower the learning curve for the game and bring more players into the world of miniatures gaming.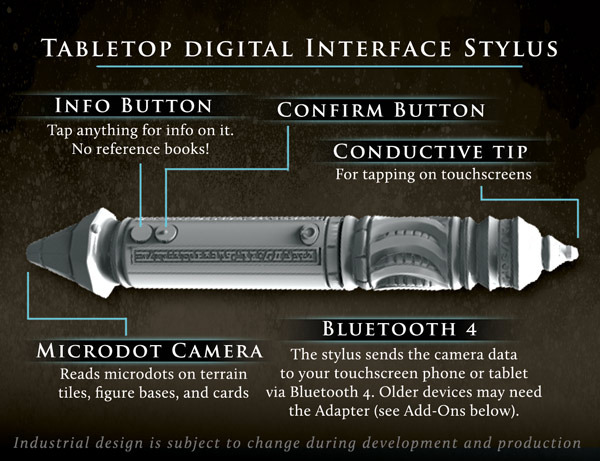 Harebrained Schemes has a team that includes the creators of major tabletop games like BattleTech, MageKnights, and HeroClix. The base game will be provided to backers who provide $65 USD or more. It contains six Golem miniatures, six cardboard terrain tiles, the TDI Stylus, two 10 sided dice, control cards, and a book containing rules and the lore of Golem Arcana. A variety of extra addons like more miniatures, stylus, Bluetooth 4 adapter, and extra terrain tiles can also be purchased. More information about the game can be found at the official Kickstarter campaign and the official Golem Arcana website.